10 Hilarious Naruto Fan-Art Photos That Would Even Make Orochimaru Laugh
Naruto is filled with action and laughs. These fan artists captured that perfectly.
You Are Reading :10 Hilarious Naruto FanArt Photos That Would Even Make Orochimaru Laugh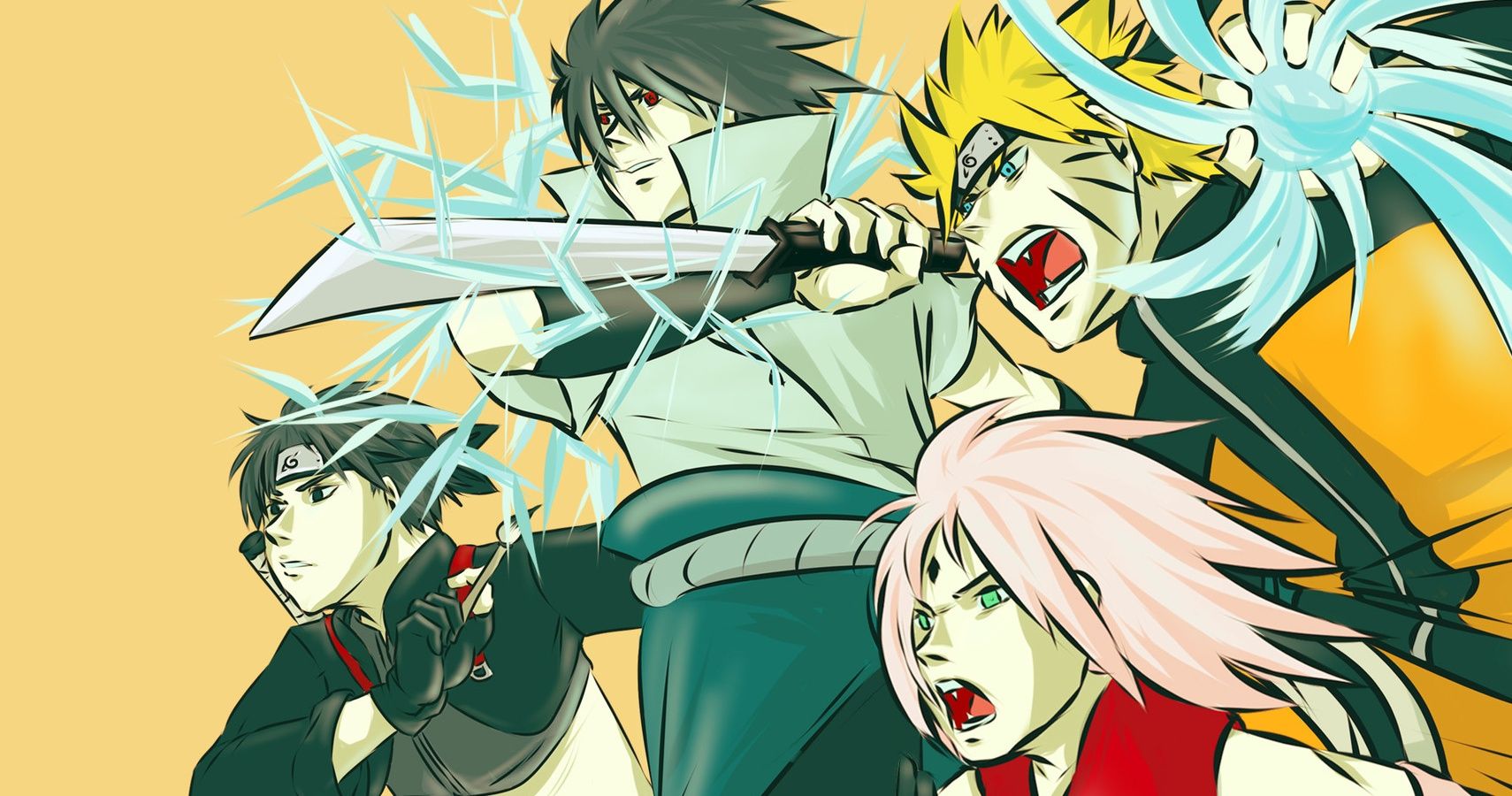 While online fan art based on popular media is nothing new these days, it was relatively new when the Naruto anime premiered in the early 2000s. As a result, we have Naruto fan art that's as old as the show with its sequel Naruto: Shippuden included.
Among the fan art that's circulating the web, there are two different kinds: well-drawn images of the main characters and funny cartoons. Now the latter does make sense, as the show does have comedic elements throughout to break up the serious moments. So here are some of the most hilarious Naruto fan art photos.
10 Torch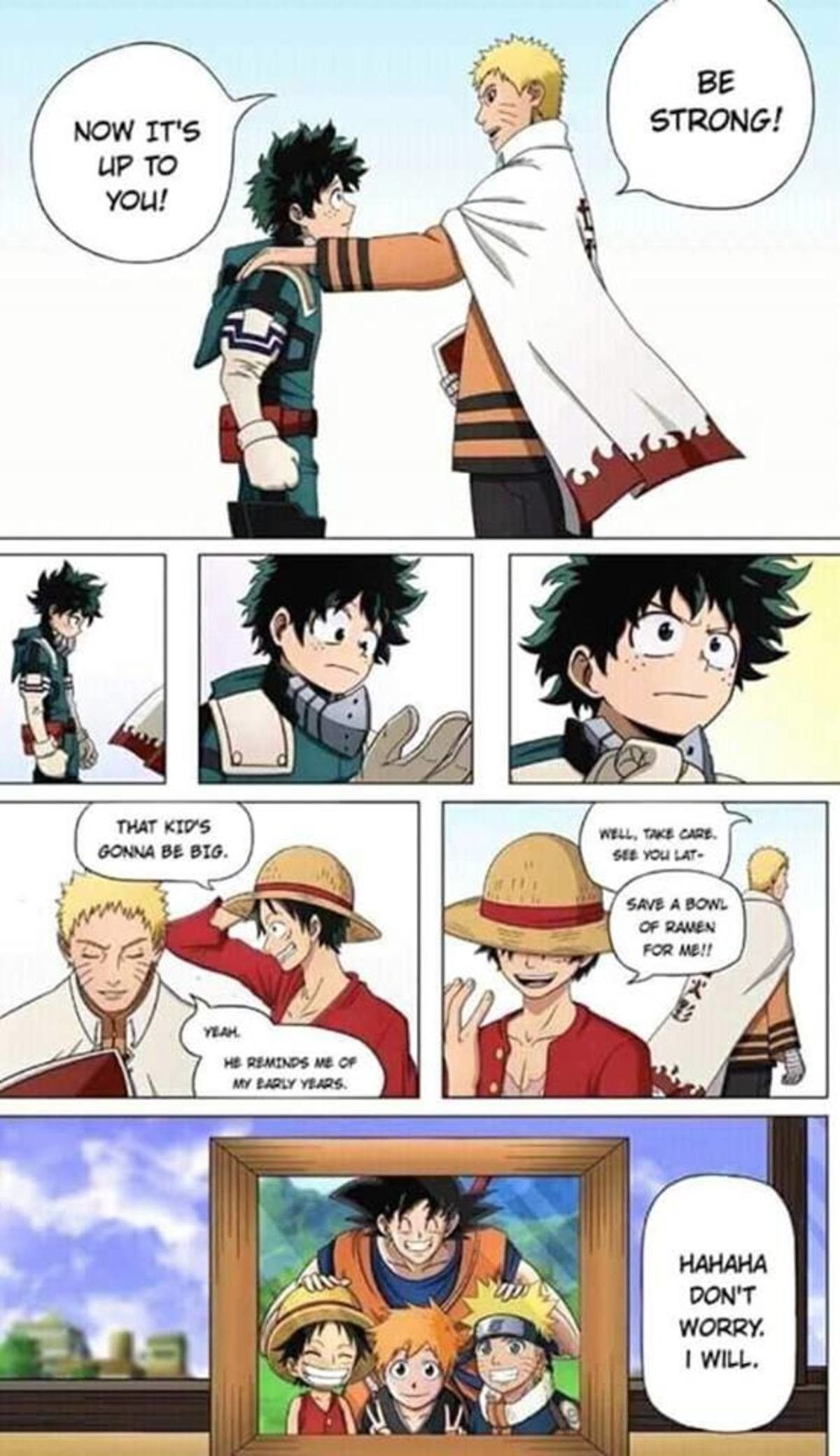 One of the most popular magazines in Japan is Weekly Shōnen Jump which has readers across the globe eagerly awaiting the latest chapters of popular manga. This includes ongoing series such as One Piece and relatively new ones like My Hero Academia.
Because of Hero Academia's similarities to Naruto in terms of story and characters, it's arguably a spiritual successor to the latter series. As a result, we get photos such as this one that jejemon posted where Naruto Uzumaki gives his blessing to Hero Academia protagonist Izuku Midoriya. It's a touching scene, but also hilarious thanks to the Team 7-style picture showing other recognizable Shōnen Jump protagonists.
9 Naruto 699: Chillin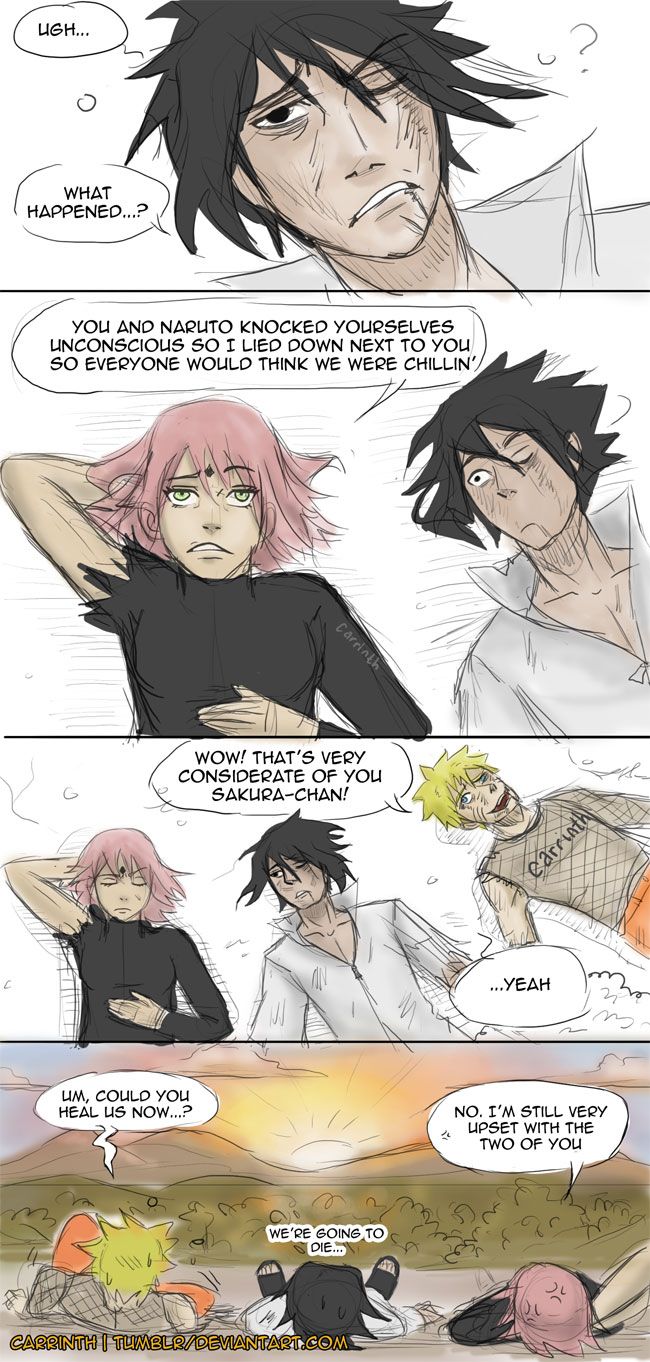 Near the end of Naruto: Shippuden's run, Naruto and his rival Sasuke Uchiha had one final battle at the Valley of the End where they had their first major battle in the previous series. This time, they both knocked each other out completely instead of having one recover before the other.
So carrinth parodies this famous scene by having Sakura Haruno lying between Naruto and Sasuke. Though what makes the picture hilarious is Sakura denying Naruto's request to be healed despite being skilled in Medical Ninjutsu. In addition, Sasuke's dour remark makes the whole situation more funny in a darkly sarcastic sense.
8 Tree On Head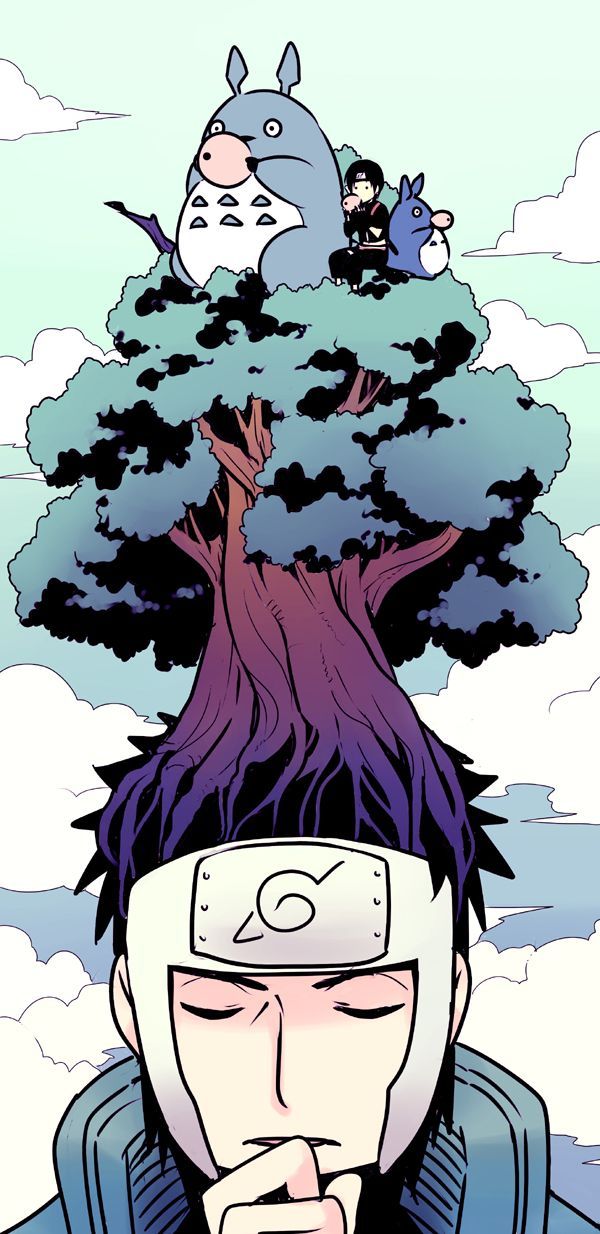 Though Naruto and other similar anime series may still be popular today, they are nothing compared to the international appeal of animated movies created by Studio Ghibli. For instance, there's a theme park based on one of their most popular movies My Neighbor Totoro.
A cute story about two girls befriending the titular fuzzy spirit of the forest near their house, the My Neighbor Totoro movie has lent itself to fan art crossovers with other properties. This includes a hilarious Naruto-based one by overdoor which shows a tree growing out of Yamato's head which Sai and Totoro sit atop of.
7 Come Back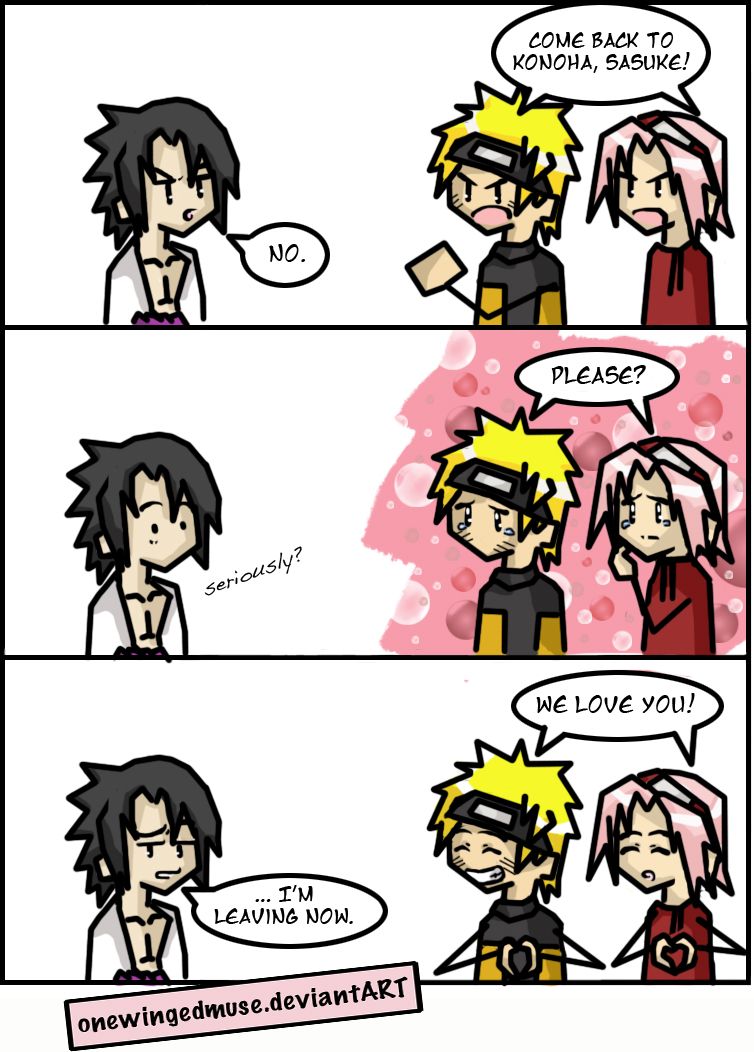 Like most anime series, Naruto and its sequel were known for their multiple plots. This included Naruto and Sakura's attempts to bring Sasuke back to Konoha after he left to join Orochimaru. Because of Sasuke's reluctance to return, this made the task seem ultimately futile and therefore ripe for being made fun of by artists such as OneWingedMuse.
As we see in this picture, Sakura and Naruto are begging Sasuke to come back because they love him as demonstrated by their exaggerated gestures of affection. But Sasuke is less than enthusiastic to abide by their wishes in keeping with his stoic character.
6 Sadaharu, Kyuubi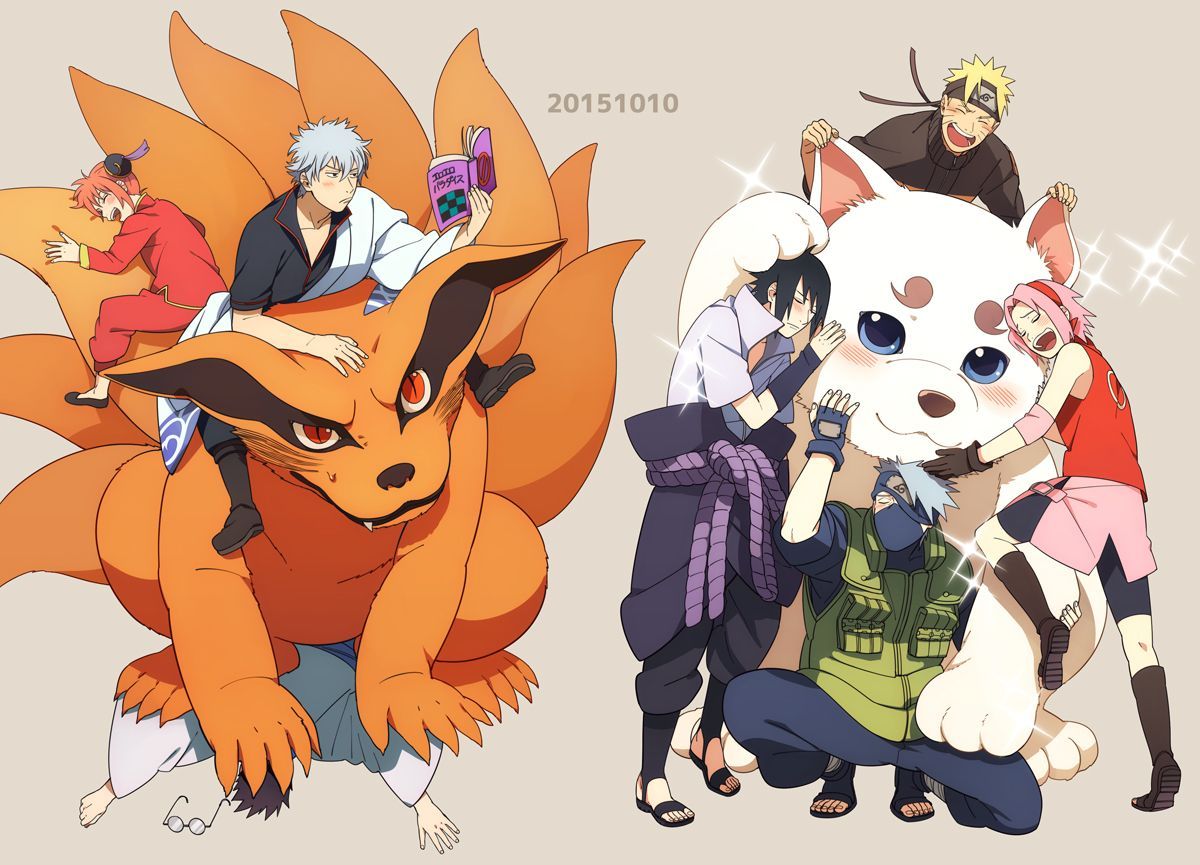 When the Naruto anime was at the height of its popularity, another series debuted called Gin Tama which got a lot of initial attention but was overshadowed by Naruto's success. Though the two series shared a common focus in blending comedy and action, their plots were different.
In Gin Tama's case, it was about a samurai and his colleagues taking odd jobs against the backdrop of an alternate Edo period where aliens invaded Japan leading to a ban on swords. Despite the differences, artists like Dariyuphie created humorous crossover pictures like this one where the main characters of Gin Tama and Naruto are cuddling each other's mascots.
5 Summoning Jutsu: GROOT
Because Naruto had a multitude of secondary characters that didn't get much attention in the manga and anime, fans naturally wanted to represent them more through art. One such example is Hashirama Senju, who was Konoha's first Hokage and Tsunade's grandfather.
He was also a master of Wood Release Ninjutsu, which was an ability that only he had until Yamato inherited it through Orochimaru's experimentations. This ability allowed Hashirama to create trees and other wooden objects such as the Wood Human. So Kevin Shah makes fun of the technique by having Hashirama summon Groot from Guardians of the Galaxy instead.
4 Silly Naruto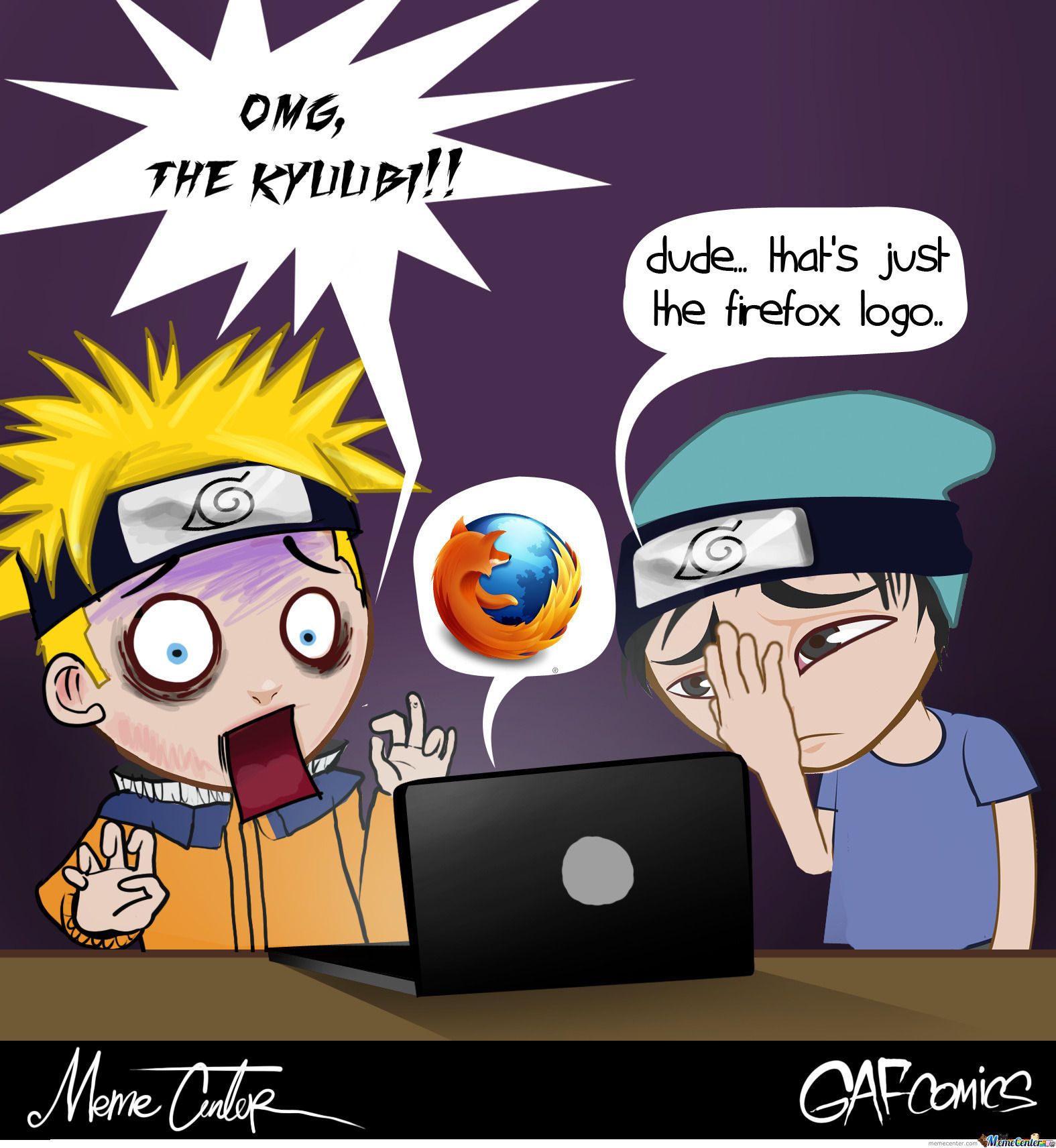 When the Internet first got up and running, there weren't that many web browsers available. But now, we live in a world where there's a ton of web browsers all vying for customer loyalty. One of these is FireFox, which debuted in the early 2000s around the same time as the Naruto anime.
As its name suggests, the logo is an orange fox encapsulating a blue sphere. Now to Naruto fans, the fox resembles Kyuubi/Kurama the Nine-Tailed Fox demon that resides within Naruto's body. Hence, this hilarious picture by gafcomics where Naruto mistakes the FireFox logo for Kyuubi.
3 Funny Christmas Naruto N Sasuke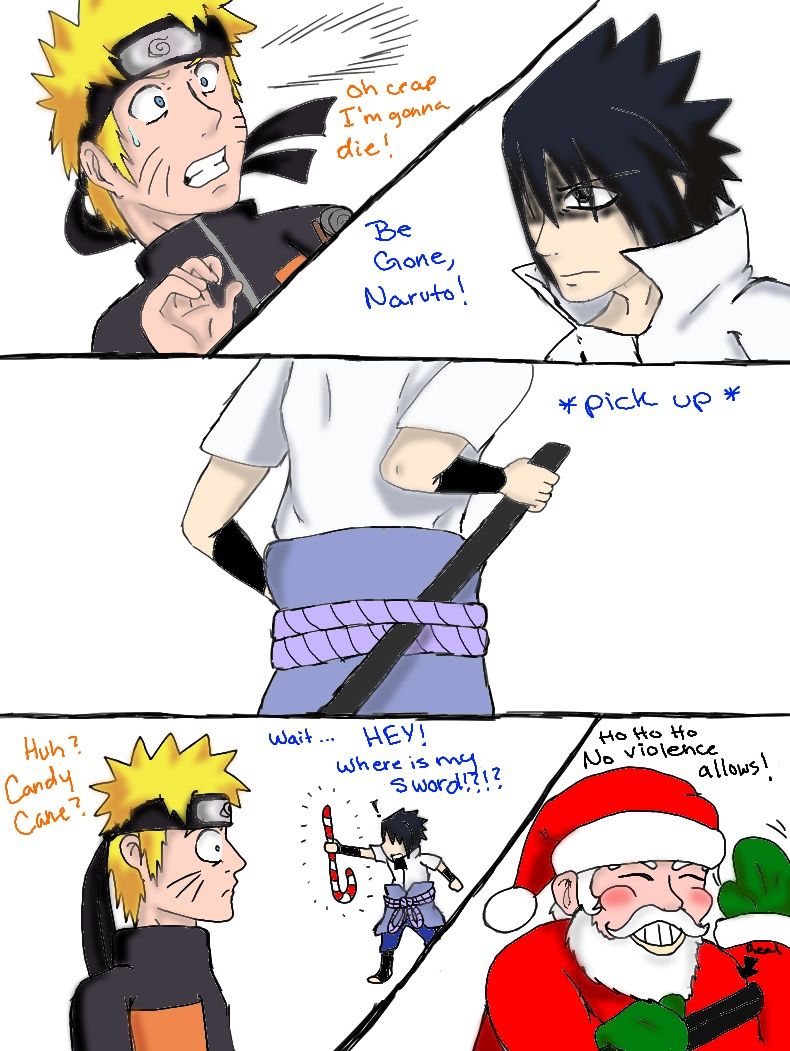 Though Christmas has already come and gone, that doesn't mean humorous fan art pictures revolving around the holiday are less funny. But to be fair, this picture by UchihaClanRock was posted around Christmas time. Still, it has non-holiday elements that make it stand out.
Namely, Sasuke trying to kill Naruto whom he sees as a personal obstacle that keeps him from obtaining ultimate power to achieve his revenge-based goals. But then out of nowhere, Santa Claus stops Sasuke by replacing his sword with a candy cane. In of itself, this idea is hilarious because Santa doesn't exist in the Naruto universe.
2 Tobi's Disguise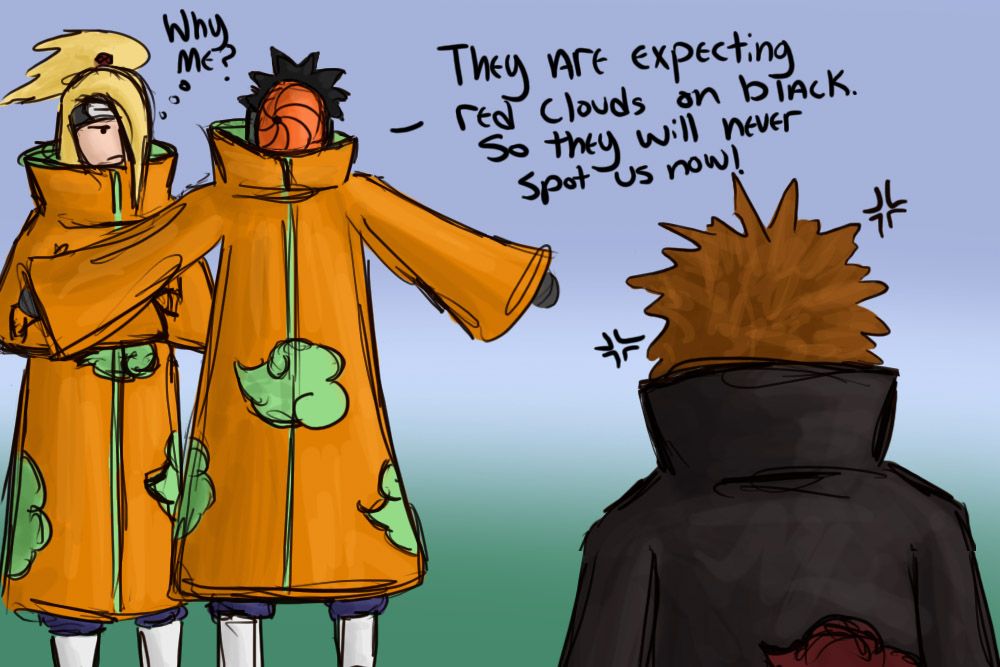 Before we knew Tobi's backstory, or his ultimate goals, this masked figure in the Akatsuki was perceived as being mostly harmless and comical based on his interactions with Deidara. As a result, a lot of fan art depicted Tobi as being a comedic foil to the other Akatsuki members.
We see an example of this in the above picture by LunarMaddness where Tobi comes up with the idea to disguise him and Deidara in different colored variations of the Akatsuki uniforms. Though it is meant to fool the enemy, Tobi's idea is meet with irritation by a third Akatsuki member (who is possibly Pain) making this picture hilarious.
1 Senju 2, Uchiha 1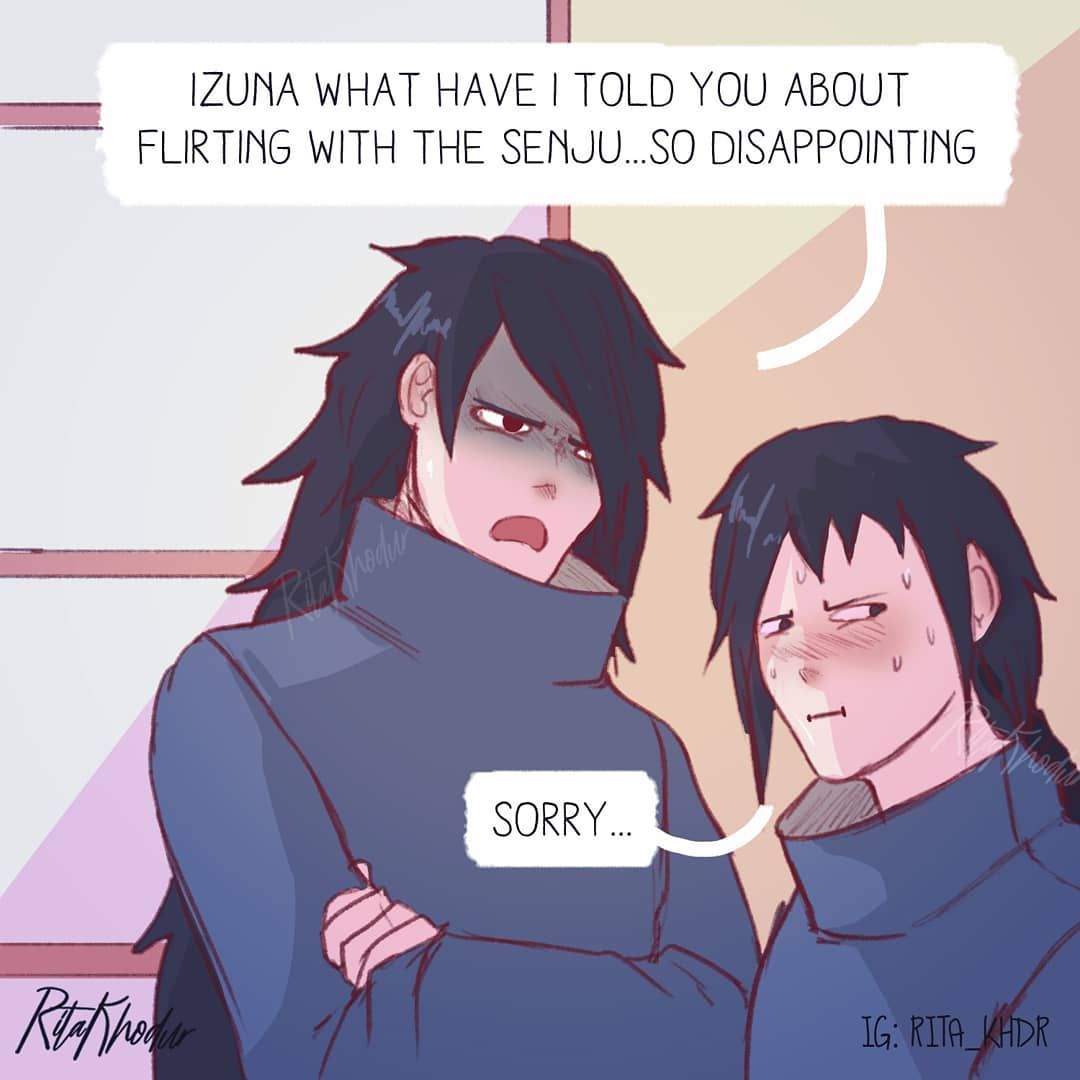 Prior to the establishment of Konoha village, ninja clans fought each other on a daily basis. These included the Senju and Uchiha, who were bitter rivals that had many bloody confrontations before the two made a truce and founded Konoha together.
Yet this truce came in the aftermath of a fatal battle between Izuna and Tobirama, who were the younger brothers of Madara Uchiha and Hashirama Senju respectively. In this comic by Rita khodur, though, Izuna is depicted as flirting with Tobirama (despite the former dying by the other's hand). Still, this causes Madara to scold Izuna to comedic effect.