A Massive Statue Of Jurassic Park's Jeff Goldblum Lands In London
A large statue depicting Jeff Goldblum's Ian Malcolm from the Jurassic Park scene in which he's shirtless appears in London and entertains fans.
You Are Reading :A Massive Statue Of Jurassic Park's Jeff Goldblum Lands In London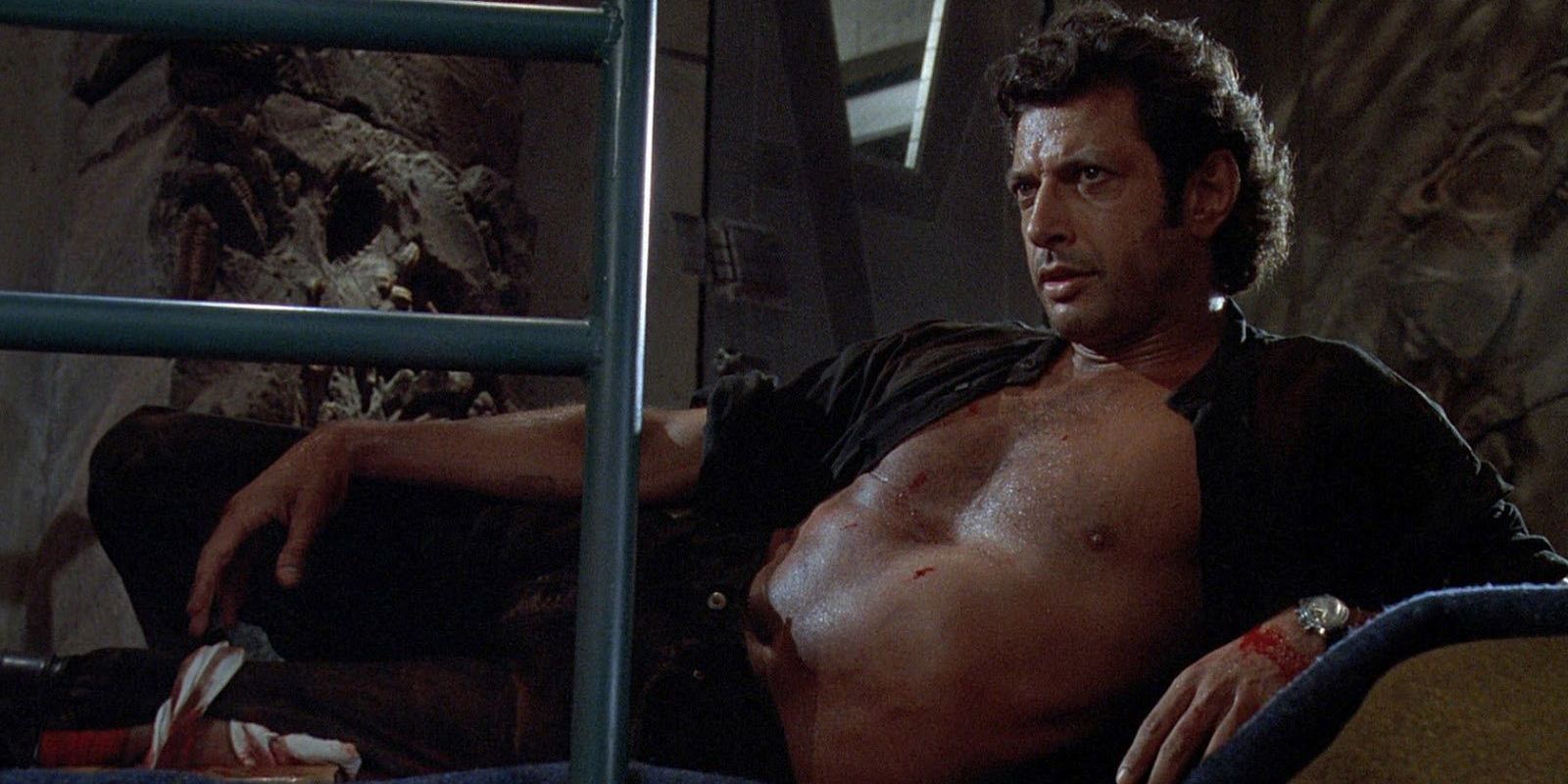 A large statue of Jurassic Park's Jeff Goldblum appeared in London today. Goldblum played Dr. Ian Malcolm, a mathematician invited by the creator of the film's dinosaur-filled park to sign off on it after troubling events put the park's future into jeopardy. This iconic role was almost cut from the script and Goldblum had to lobby to keep it in. Jurassic Park was released on June 11, 1993 in the United States and on July 15, 1993 in the United Kingdom. It recently celebrated its 25th anniversary.
Jurassic Park starred Richard Attenborough, Sam Neill and Laura Dern and was directed by Steven Spielberg. It was based on the novel of the same name by Michael Crichton. Goldblum would go on to reprise his role in the sequel, The Lost World: Jurassic Park. It was released in 1997 and involved Malcolm visiting a secondary island where dinosaurs were bred before being transported to the park. A third film in the series starring Neill came out in 2001. After a long break, the franchise returned with Jurassic World in 2015, helmed by Colin Trevorrow.
Related: Jurassic World 2 Completely Retcons The Original Jurassic Park
Variety reported on the appearance of the massive statue. The statue is almost 23 feet long, over 9.8 feet tall and weighs 331 pounds. It currently stands in front of Tower Bridge in London. UK streaming service Now TV's publicity team commissioned it to celebrate the anniversary of Jurassic Park's release. The statue shows Ian Malcolm reclining in his signature black outfit with his shirt unbuttoned in a now classic pose. It has a hashtag – #JurassicJeff – and will be up until July 26.
25ft Jeff Goldblum statue pops up in London to celebrate the 25th anniversary of Jurassic Park, which was June 11th, a month ago. Also none of the movie was filmed in London nor is Jeff Goldblum a native of the English capital. So let's just bask in its nonsensical glory. pic.twitter.com/TKQKozleMn
Reclining Ian Malcolm was also immortalized in a Funko Pop! figure. Goldblum recently appeared in Jurassic World: Fallen Kingdom which starred Chris Pratt and Bryce Dallas Howard. BD Wong's Dr. Henry Wu and Goldblum's Malcolm are the only cast members from the original Jurassic Park to be in the Jurassic World movies. He is expected to return for the final Jurassic World film directed by Trevorrow. Jurassic Park wasn't the only franchise Goldblum was recently attached to. He joined the Marvel Cinematic Universe, starring in 2017's Thor: Ragnarok as the Grandmaster.
This version of Goldblum's iconic character has become a popular internet meme, leading to countless renditions of what the internet has called "sexy Jeff Goldblum." Goldblum's scene-stealing performance made Ian Malcolm one of the most memorable characters in the film. This pose is instantly recognizable making this statue a perfect callback to the film. So far, it's proved popular with tourists and fans.
More: Jurassic World 2's Heartbreaking Callback to Jurassic Park has Crushed the Internet
Source: Variety
Link Source : https://screenrant.com/jurassic-park-jeff-goldblum-statue/