Game of Thrones' Emilia Clarke Explains Daenerys' 'Unburnt' Scene
Game of Thrones star Emilia Clarke explains the explosive end to the latest episode, and what it means for Daenerys and for the show.
You Are Reading :Game of Thrones' Emilia Clarke Explains Daenerys Unburnt Scene
Spoilers for Game of Thrones season 6, episode 4 ahead.
–
Daenerys Stormborn Targaryen, Emilia Clarke's character on Game of Thrones, has a lot of titles, which she and her entourage are fond of rattling off out loud: First of Her Name. Queen of the Andals and the First Men. Queen of Meereen, Khaleesi of the Great Grass Sea, Breaker of Chains, Mother of Dragons, The Unburnt.
It was that last one that came to the forefront once again in Sunday's fourth episode of season six, titled Book of the Stranger, as Daenerys, in reaction to both threats that she would never be free from Vaes Dothrak and to a barrage of sexist insults, burned all of the Khals to death, along with their temple. The Khaleesi then emerged from the wreckage both naked and unburnt- as she had from the funeral pyre at the conclusion of Season 1- to the cheers and adoration of the city, including the two allies, Daario (Michiel Huisman) and Jorah (Iain Glen) who had just arrived in an attempt to rescue her.
Now, in a new featurette, Clarke discusses the scene and what it means for her character:
"Not since season one have we had an opportunity to do something like this. The idea of what she does in Vaes Dothrak- it's something she's been thinking of the entirety of season 6. But it's only when she sees Jorah and Daario that she knows she can actually go through this, because she knows there will be someone at the other side… Each time she pushes over a new pyre, she gets more confidence. And I think that proof of knowing that she doesn't need dragons to be the leader and warrior that she is, is exactly what makes her the kind of character who could sit on the Iron Throne."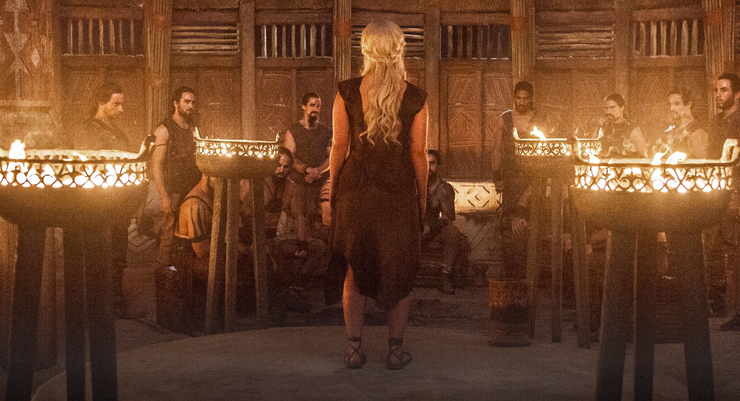 Not only was the sequence tremendously satisfying, delivering a payoff to what hadn't been one of the show's more satisfying plotlines through the season's first three episodes, but it also sets up the return of an emboldened Daenerys to Meereen- and eventually, sowing the seeds for her assault on Westeros and the likely endgame for the series. That's a storyline that show viewers have been awaiting for six years- and book readers even longer than that- and now she's one step closer. At least now she's going the right geographic direction.
Still unsolved is how exactly the Khaleesi can solve the stalemate in Meereen, or whether she will approve of the controversial diplomacy undertaken by Tyrion and Varys in her absence, also in Sunday's episode. That – and the question of how Daenerys' forces will sail with a fleet that's very much not unburnt – are likely to lead to at least some drama before it's time for them to sail on from Essos.
Game of Thrones' sixth season continues next Sunday with the fifth episode, titled The Door, on HBO, HBO Go and HBO Now.
Source: HBO
Stephen Silver is a journalist and film critic based in Philadelphia area. He was written for Screen Rant since 2015, with his work has also appeared at RogerEbert.com, Philly Voice, Tablet, and Splice Today. He is a Rotten Tomatoes-listed film critic and cofounder of the Philadelphia Film Critics Circle.
Link Source : https://screenrant.com/game-thrones-daenerys-unburnt-dosh-khaleen/