Genshin Impact Trailer Reveals Klee Gameplay
Genshin Impact introduces the explosively popular mage character Klee with a new trailer highlighting her fiery magic skills.
You Are Reading :Genshin Impact Trailer Reveals Klee Gameplay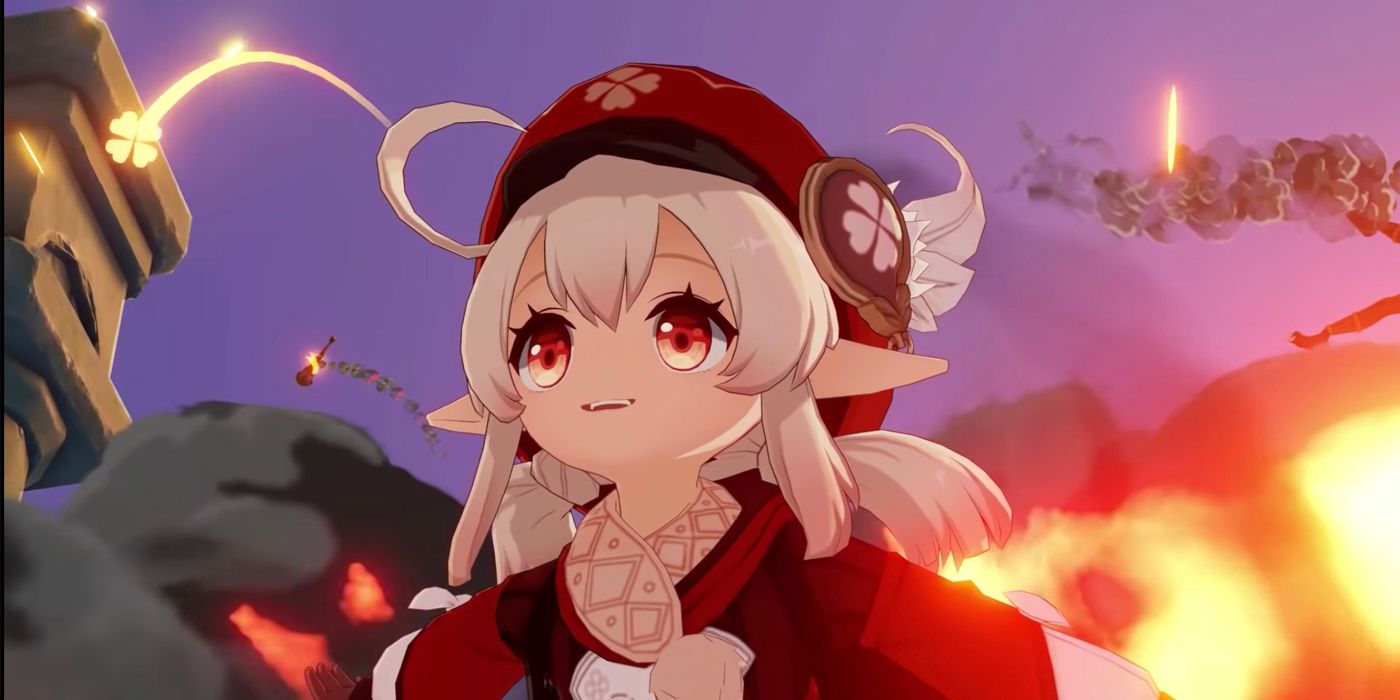 Genshin Impact fans who were fortunate enough to play the game in its beta stages are familiar with a few more characters than the casual player. One of the characters that has yet to cross the bridge from beta to the current version of the game is Klee, a Pyro-wielding mage.
While players already have access to a fair number of characters, several Genshin Impact icons have yet to officially arrive in-game. Fighters like Xiao, Ayaka, and Klee, were all playable during different stages of the game's beta test, but even though some were even featured in official promo artwork, they haven't all made it into the current version of the game.
As of October 20, 2020, Klee has made her Genshin Impact debut, and can be Wished for through her special banner on the Wish menu. To celebrate the start of Klee's introductory event, miHoYo has released a new promotional video showcasing not only Klee's explosive skills and gameplay, but also her adorably fiery charm.
Klee is a Pyro mage, which means she wields catalysts as her weapon of choice, and infuses many of her attacks with the Pyro element. As seen throughout the video, Klee's brand of Pyro magic is rather explosive in nature, and makes use of cute bunny-like egg bombs that menacingly bounce, multiply, and explode, as they approach enemies. The bombs actually sort of resemble daruma dolls, or perhaps matryoshka dolls (Russian nesting dolls), especially when seen multiplying in numbers and bouncing.
Klee seems to be a rather mischievous character, with Jean pausing the video midway to literally send her to time out, with a firm "you know the consequences." After the cute timeout timer expires, Klee bursts out of her room and takes a big bunny hop into Teyvat, where viewers watch her show off her Pyro magic. She is a fairly quick character, and the clover seems to be her emblem.
Her explosive bouncing bomb skill is endearingly named "Jumpy Dumpty," and although Klee repeatedly stipulates that it is not for fish-exploding, players have their suspicions that this may be an incredibly effective way to blow up and capture large numbers of fish. Jumpy Dumpty aside, Klee seems to be able to generate magical clover-shaped turrets above herself. The flowery assistants fire small Pyro blasts at nearby enemies, and at some points in the trailer, they're seen accompanying Klee as she moves.
Up until now, players have had to choose between Amber, Diluc, Xiangling, and Bennett, for a Pyro user. Amber is the first extra in-game character received, so needless to say, many grow weary of her fast. Diluc on the other hand, is just as rare as he is hyper-popular, making him an unreliable choice. Bennett's stats and abilities pale in comparison to most other characters, and Xiangling is only available once players are in late-game. So in other words: Klee is a very, very, welcome addition to Genshin Impact.
Genshin Impact is available now on the App Store, Google Play, and PS4.
#genshin-impact-klee-gameplay-trailer/" target="_blank" rel="noopener">#genshin-impact-klee-gameplay-trailer/