NBA 2K22 Reveals Candace Parker, Luka Doncic As Cover Athletes
This morning, NBA 2K announced that Luka Doncic would be the cover athlete for NBA 2K22 standard edition and pre-orders for the game are now open.
You Are Reading :NBA 2K22 Reveals Candace Parker Luka Doncic As Cover Athletes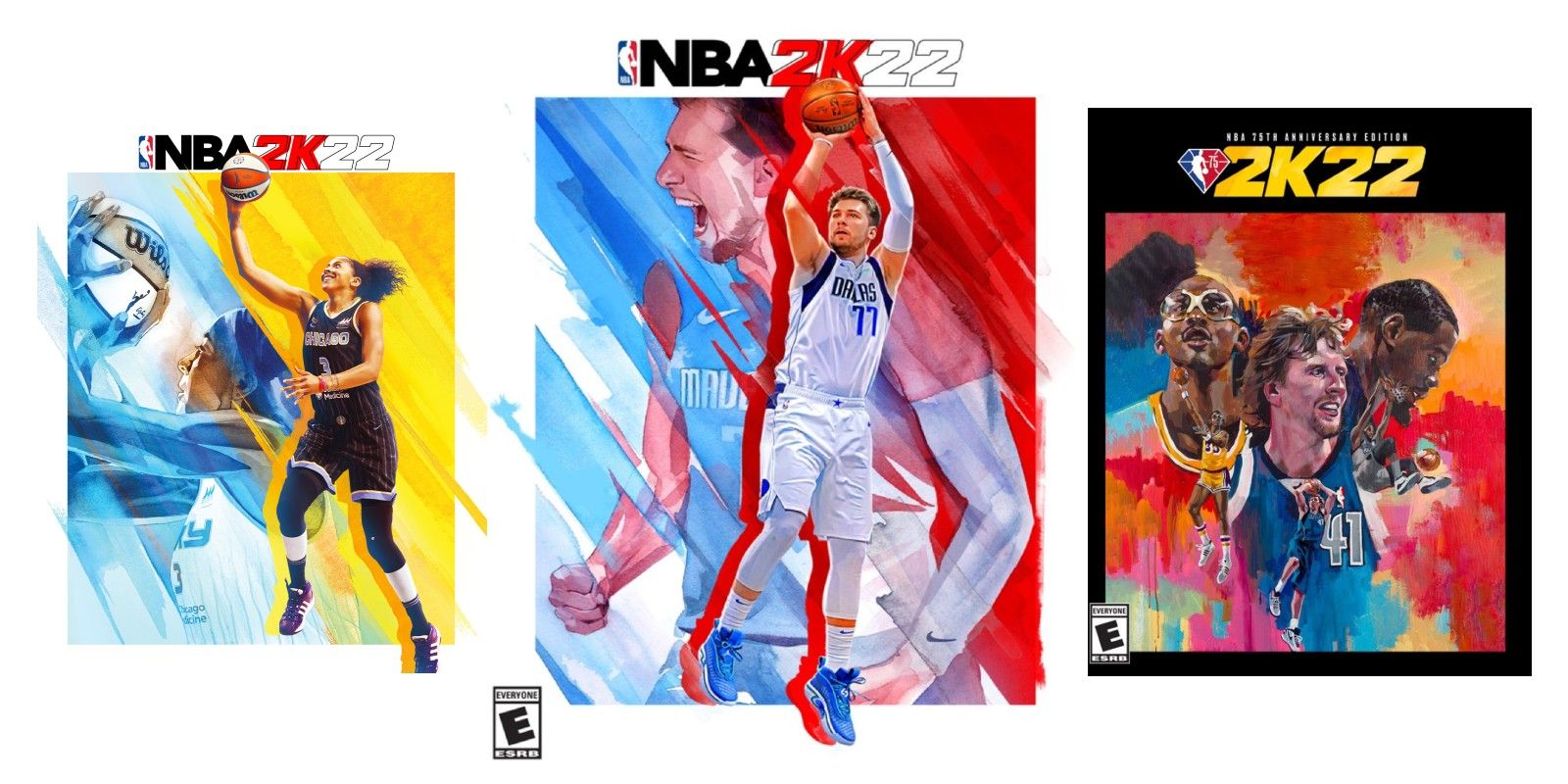 2K Games has announced that the Dallas Mavericks' Luka Doncic and Chicago Sky's Candace Parker will be the cover athletes for NBA 2K22 and that pre-orders are now open. A special edition celebrating the 75th anniversary of the NBA has also been revealed, with its cover highlighting basketball legends Kevin Durant, Kareem Abdul-Jabbar, and Dirk Nowitzki.
NBA 2K games are a reliable sports series with wide mainstream appeal. Players can always expect an annual NBA 2K entry with an updated roster, minor improvements, and a unique story for the MyPlayer mode. Just like the yearly NBA Awards, being on the cover of NBA 2K is a signifier of a player's impact (or potential impact) on the game. It is not unusual for NBA 2K to have multiple cover athletes for various editions. For NBA 2K21, a special Mamba Forever Edition starring Kobe Bryant was released in honor of the late basketball star who tragically died in January 2020. The cover athlete for the standard editions of the game were Damian Lillard and Zion Williamson.
On Twitter, NBA 2K revealed the cover athletes and art for the three different covers (which comprise two editions) of NBA 2K22. Dallas Mavericks point guard and shooting guard Luka Doncic is the cover athlete for the NBA 2K Standard Edition and the game's Cross-Gen Bundle digital edition, giving last-gen players an option similar to 2K21. Meanwhile, Chicago Sky forward Candace Parker is NBA 2K22's "GameStop Exclusive" cover athlete, making her the first-ever WNBA player to be featured on an NBA 2K cover.
Luka Magic 🔮 Introducing our #NBA2K22 Cover Athlete @luka7doncic Pre-order now ➡️ https://t.co/vvOEdFGQaU pic.twitter.com/EhgfUTnodn
The first WNBA player on a cover of NBA 2K 🙌 Introducing our GameStop Exclusive Cover Athlete @Candace_Parker pic.twitter.com/OKG8nDDRCF
Finally, in celebration of the 75th anniversary of the NBA, retired players Kareem Abdul-Jabar and Dirk Nowitszi and active player Kevin Durant share the cover. The NBA 2K tweets also announced that pre-orders for all editions are now open. If a player pre-orders NBA 2K22 75th Anniversary Edition, they will receive more bonuses than those who pre-order the Standard Edition, receiving additional virtual currency, MyTeam cards and points, boosts for MyCAREER skills, and more. NBA 2K22 will launch on PS4, PS5, Xbox One, Xbox Series X/S, and PC on September 10.
🏀 75 years since the NBA was born 🏆 3 legends of their era Introducing our #NBA2K22 75th Anniversary Cover Athletes @KDTrey5 @swish41 @kaj33 Pre-order now ➡️ https://t.co/vvOEdFGQaU pic.twitter.com/3ZrU9NlZ1i
Some fans are already questioning why an active NBA player (Durant) is on the Anniversary Edition cover with two legendary players from the league's older history, but it could be that 2K was aiming to give each generation a player they recognize. Of course, there will always be some community disagreements on cover athletes. What is most exciting is the long-overdue WNBA cover. Candace Parker is the first-ever female and WNBA player to cover a 2K game, which is a huge honor for the current Chicago Sky and former LA Sparks star. Since there's a WNBA cover athlete, perhaps WNBA players will be given access to all modes and content in NBA 2K22 this time around. It would've been better if Candace Parker had instead been given here own special edition and not a cover exclusive to one retailer, but it's still a historic step for the series.
The franchise is at a very interesting point in its life, with more players wanting WNBA players to be better represented, and NBA 2K22 appears to be paying attention to those expectations. While relegating its franchise-first WNBA cover star to a GameStop promotion isn't ideal, NBA 2K22 is still making some positive strides for the franchise's future.
Link Source : https://screenrant.com/nba-2k22-luka-doncic-candace-parker-cover-athletes/