No Sackboy for the Holidays, 'LittleBigPlanet 2' Delayed to January 2011
Sony and Media Molecule has announced that the PlayStation 3 exclusive LittleBigPlanet 2 will be delayed to January 2011.
You Are Reading :No Sackboy for the Holidays LittleBigPlanet 2 Delayed to January 2011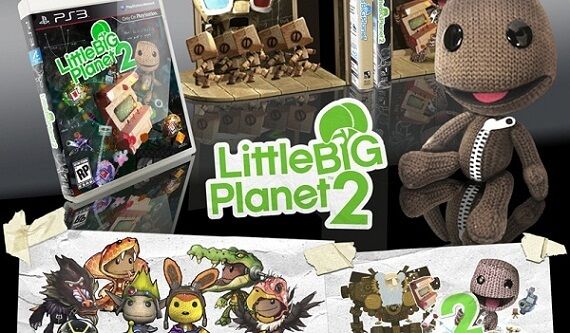 This year has seen more triple-A titles delayed into the next year than any other year in recent memory. Crysis 2, SOCOM 4, Portal 2, F.E.A.R. 3, and others have seen their late 2010 release dates moved to early 2011. Unfortunately, you can now add LittleBigPlanet 2 to that list. Media Molecule, the developers of LittleBigPlanet, announced on their website that the game is going to be pushed from the planned November 16th release to sometime in January 2011.
"LittleBigPlanet 2 is a crazy dream, a dream to allow players to make whatever kind of game they want, but also to play though a great adventure of drama and excitement, power-ups, and cinematics. But like all of the most ambitious ideas, it can be a considerable challenge to turn these dreams in to fun games. We've all been working like powered-up space ninjas and we're almost there, but because we love what we've made, and we love our little sack-friends, and most of all we love all our fans out there, we couldn't let you all get together until we knew we were giving you the best experience imaginable. Which is why we've taken the hard decision to delay the worldwide release of LittleBigPlanet 2, originally slated for later this year to January 2011."
With the amount of work that must be required to make a game with as many options as LBP, this delay is not very surprising to me. We have already seen the game engine improvements which allow for RTS and shooter levels at Sony's E3 presentation, and the new additions to the gameplay such as AI controlled bots and gadgets in the adventure trailer. These new features look to be some great additions to an already fun game. The time to tune and get everything working together properly is something I can see taking longer than Sony and Media Molecule originally expected.
"We know this will come as disappointing news for all you LittleBigPlanet fans, and believe us, we are disappointed too. We are a tight-knit team and we take enormous pride in our work, so to raise the bar we'veset with the original LittleBigPlanet, a game that has been so embraced by all, we'veagreed to allow ourselves a bit more time to deliver the experience that our great fans and community deserve. We are truly sorry, but hope you understand that we have to build the best possible game, as it is the foundation of our community."
With SOCOM 4 already pushed from this year and now LBP 2, this can't be exciting news for Sony. Without these marquee franchises in their holiday lineup that leaves a big hole in Sony's holiday push. Off the top of my head, Gran Turismo 5 is the looking to be the only real standout exclusive for Sony this holiday season.
So Ranters, were any of you looking forward to getting control of Sackboy this November and are disappointed with this delay? Is this bad news for Sony, or will Gran Turismo 5 be enough for Sony this holiday season?
LittleBigPlanet 2, developed by Media Molecule, is set for release sometime in January 2011 exclusively on the PS3.
Source: LittleBigPlanet.com
#littlebigplanet-2-delayed-january-2011/" target="_blank" rel="noopener">#littlebigplanet-2-delayed-january-2011/