Sweat Drops & 11 Other Visual Tropes That Are Uniquely Anime
While the themes of anime are pretty much universal, the meanings behind its visual tropes might not be immediately apparent to those new to anime.
You Are Reading :Sweat Drops & 11 Other Visual Tropes That Are Uniquely Anime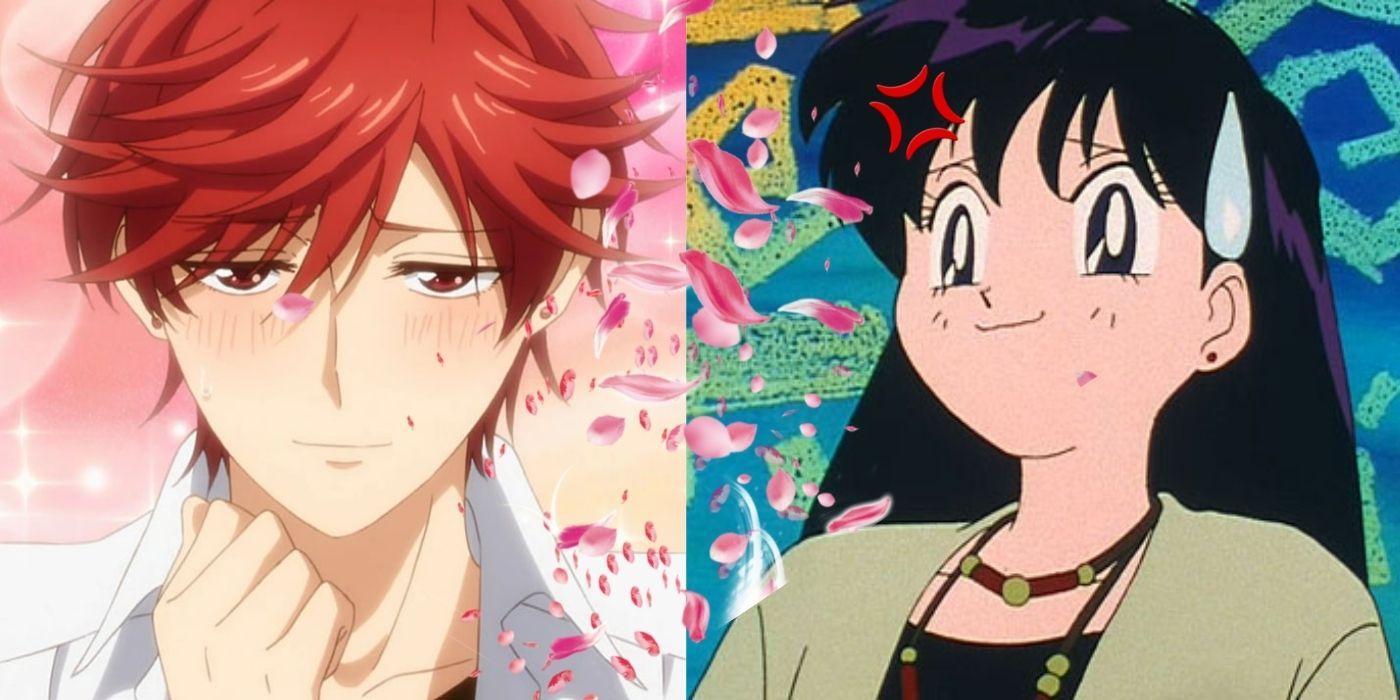 "Show, don't tell." Alongside film, animation is arguably one of the most visually engaging of all artistic mediums, and half of any well-animated story takes place not in dialogue but in events that unfold right before an audience's eyes. Anime has its own distinctive style, and to Western viewers new to anime, some trademark quirks of the medium may feel initially jarring.
Beyond super-deformed characters, jokes dependent on Japanese cultural norms, and chibis galore, anime's most popular visual cues transcends all genres, enhancing visual storytelling in a way that is distinctly anime. With enough practice, anyone can learn to read these visual cues like another set of subtitles.
12 The Ahoge Is A Very Specific Kind of Characterization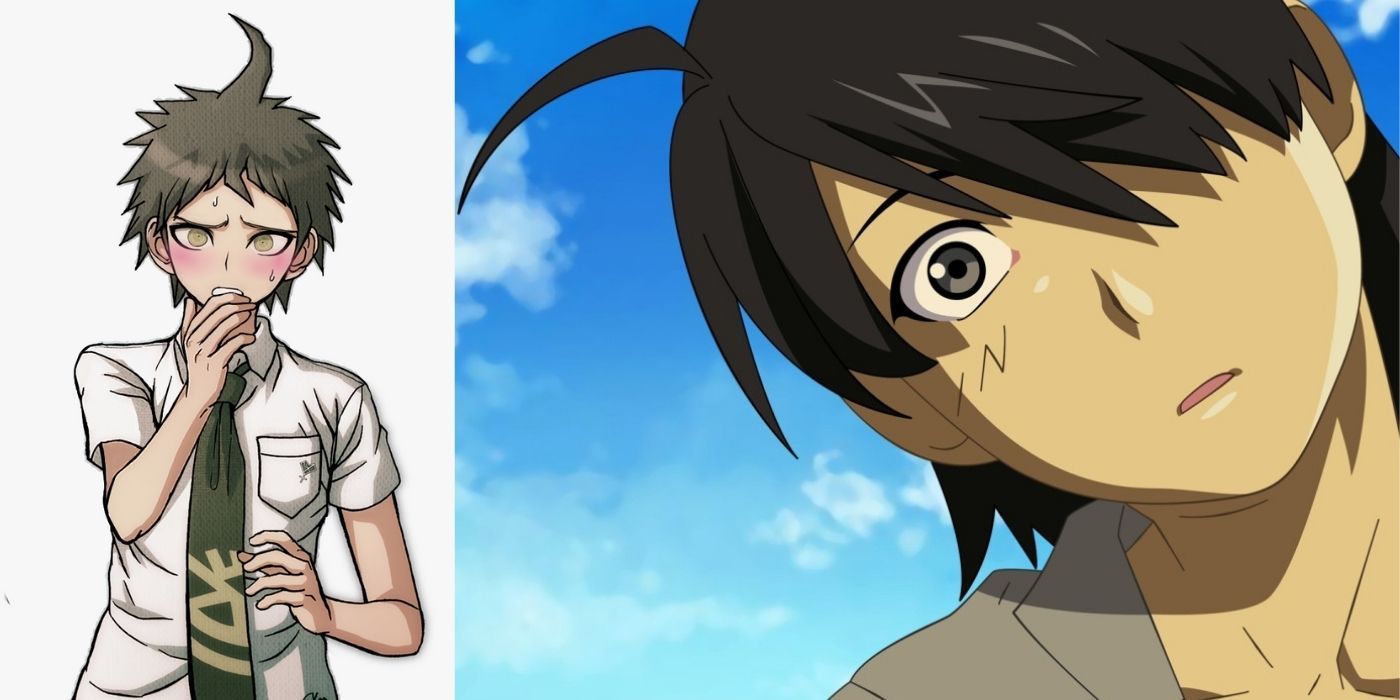 Much has been said about the various oddball hairstyles of anime characters. It's not hard to pick out main characters from the masses when watching anime, as they tend to be drawn with significantly more care, detail, and color than the background characters. While anime protags boast a wide range of both appealing and awful hairdos, the ahoge deserves its own special mention.
The ahoge, antenna hair, or single strand of errant hair on an anime character's head, is a staple of the shonen genre. The word "ahoge" literally translates to "idiot hair," and it does what it says on the box. Characters with an ahoge are traditionally clumsy, foolish, or especially stubborn. In recent years, however, the ahoge has been subverted at times, so even especially clever protagonists have a very noticeable chunk of hair out of place.
11 Sweat Drops Aren't Due To Heat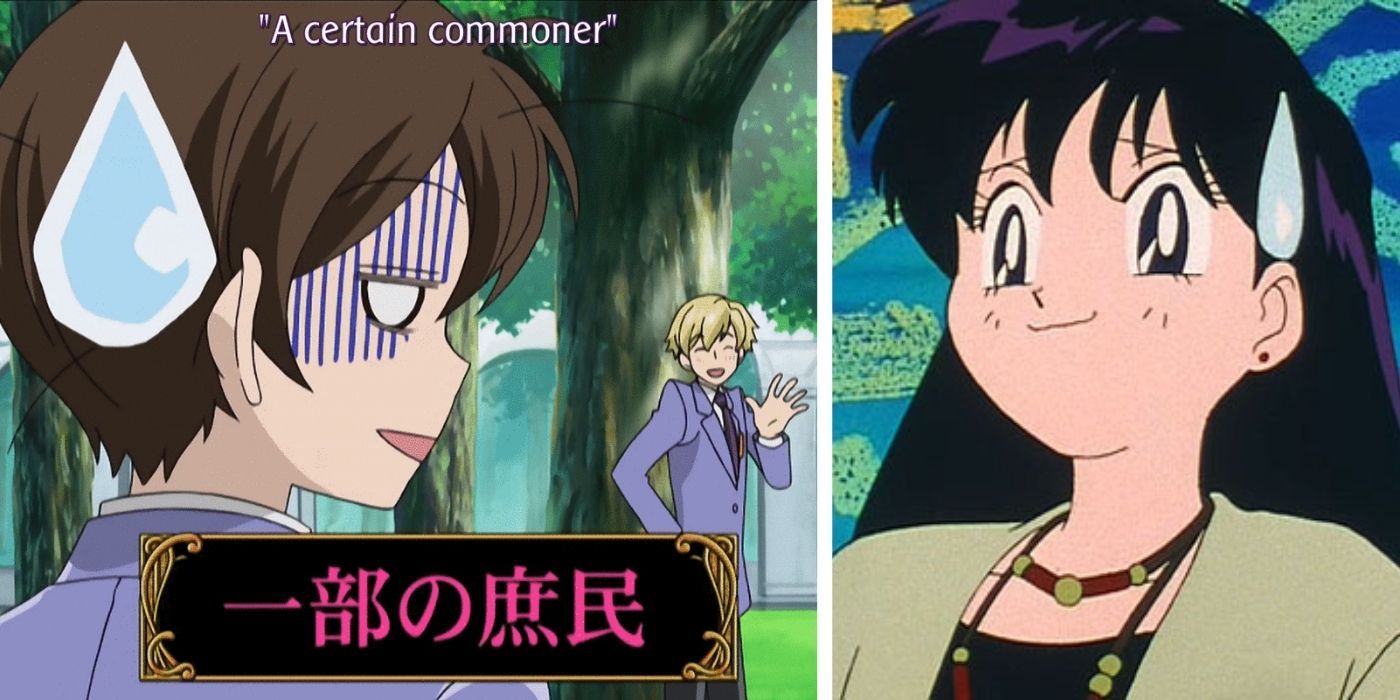 Anime sweat is no joke, but in most cases, sweat drops have little to do with heat. While there are various depictions of perspiration in anime, the single giant sweat drop that often appears on characters' hairlines has very specific connotations.
This symbol implies that a character is exasperated, confused, anxious, or frustrated with another character. It's often accompanied by a tightlipped smile or blue lines of shame.
10 Popping Veins Are Always Red and X-Shaped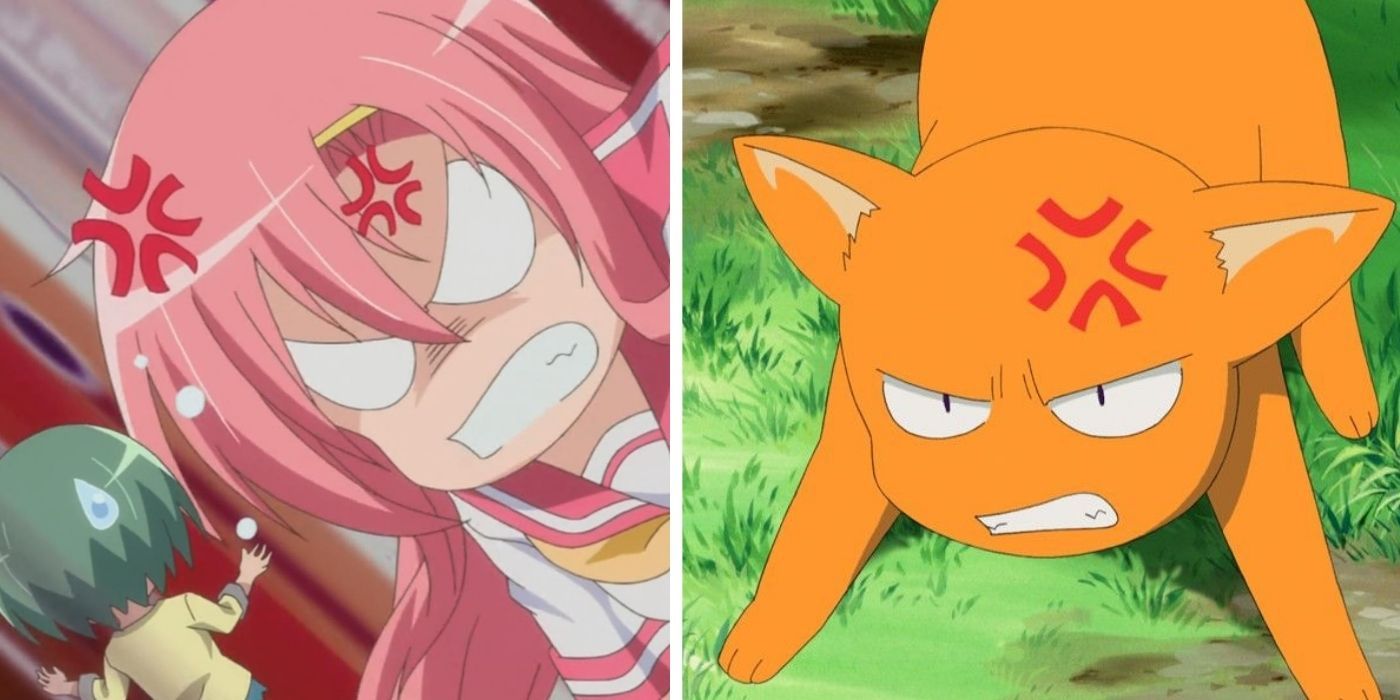 Ostensibly meant to symbolize popping veins, red crosshatches appear on characters' foreheads when they are enraged or deeply frustrated. Usually accompanied by super-deformed chibi expressions, gritted pointed teeth, and even speed lines in the background, few characters get through a series without a moment or two being marred by these infamous scarlet letters.
9 The Blue Lines Of Shame Have Many Uses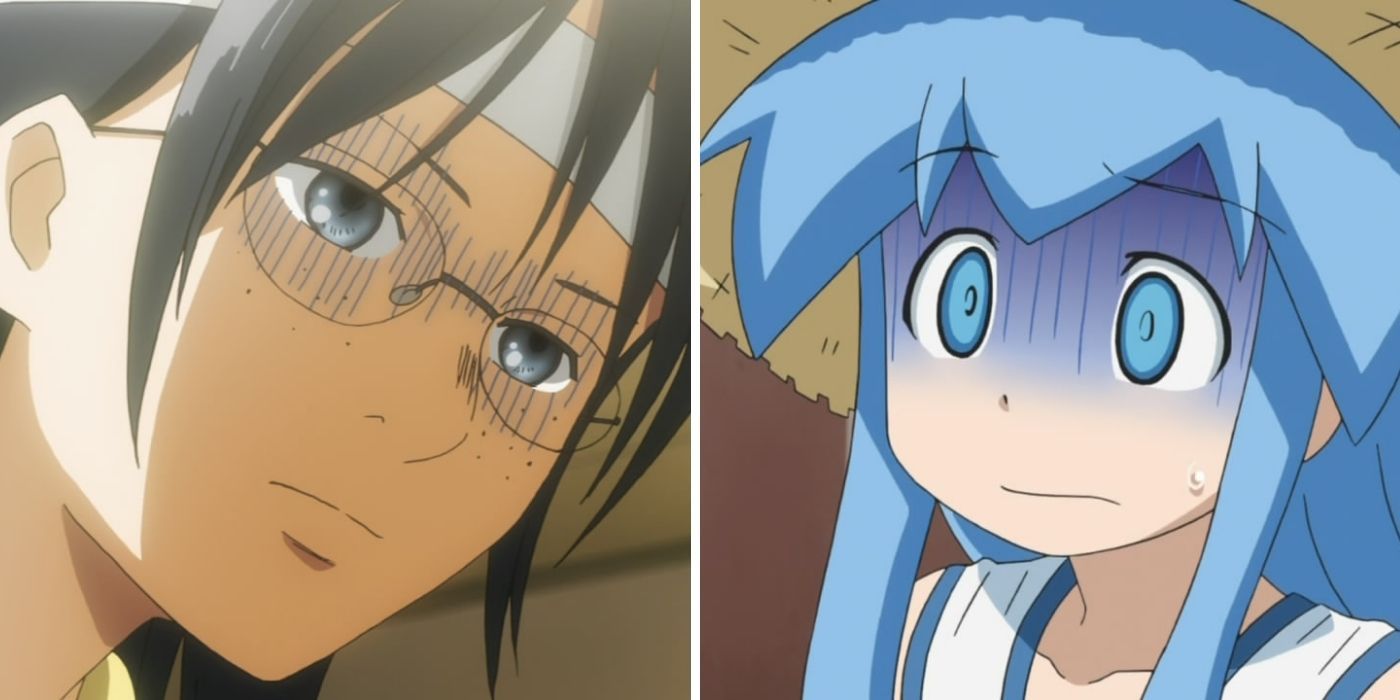 Nearly as common as but slightly more nuanced than the cross-popping veins of rage are the blue lines of shame. Characters who are uneasy, sick, afraid, or worried will often be drawn with their faces half-shadowed and marked by gray or blue lines.
These visual cues are sometimes paired with flat, lifeless eyes or no eyes at all, depending on the severity of the emotion. In some instances, the blue lines are a bit more innocuous and imply instead that a character is unamused by another character's antics or jokes.
8 The Bishie Sparkle Is Both Silly And Alluring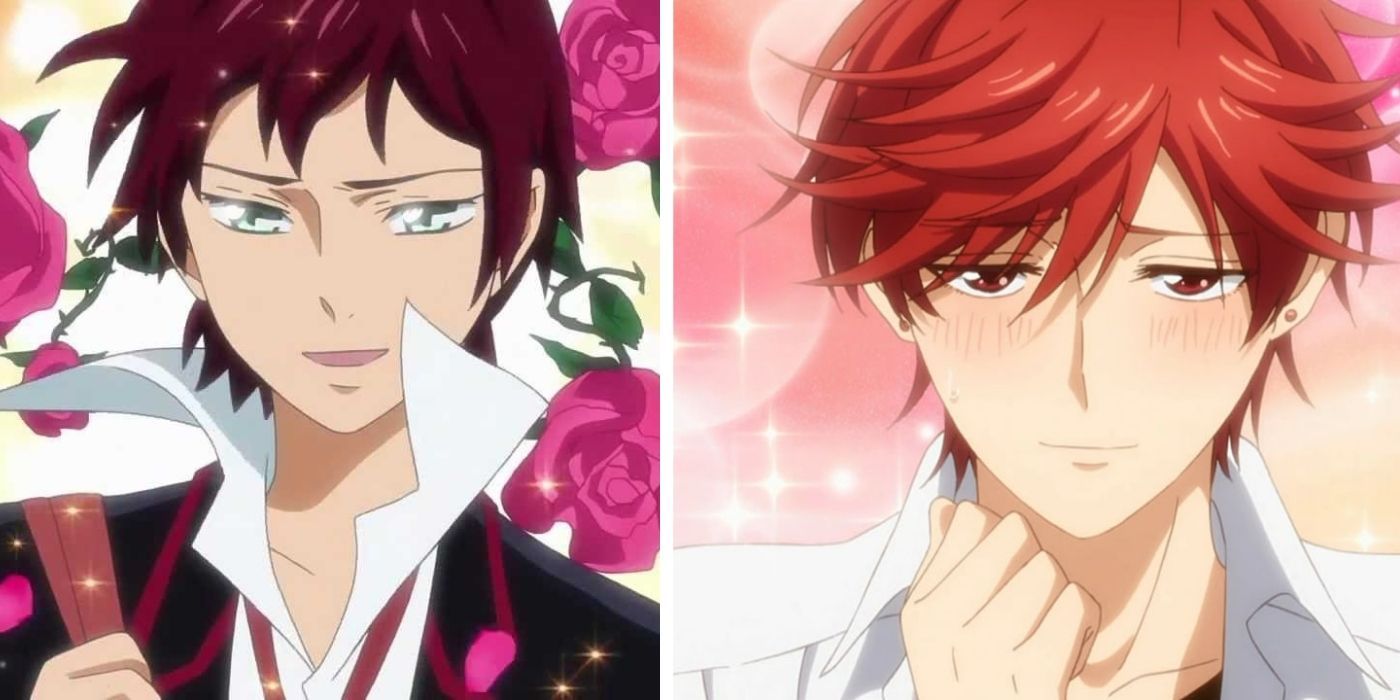 Romance novels often describe falling in love at first sight, a notion that's as outdated as it is clichéd. Yet, anime has its own ways of highlighting this concept. Shojo fans have witnessed many a sparkling entrance as an attractive character (usually male but sometimes female) appears, accompanied by a backdrop of flowers, sparkles, and the sound of chimes.
The bishie sparkle, as it's commonly known, signifies a character is handsome or at least thinks of themselves as handsome. Often played for laughs, this slightly silly tradition remains a genre go-to.
7 Nosebleeds Aren't Caused By Dry Weather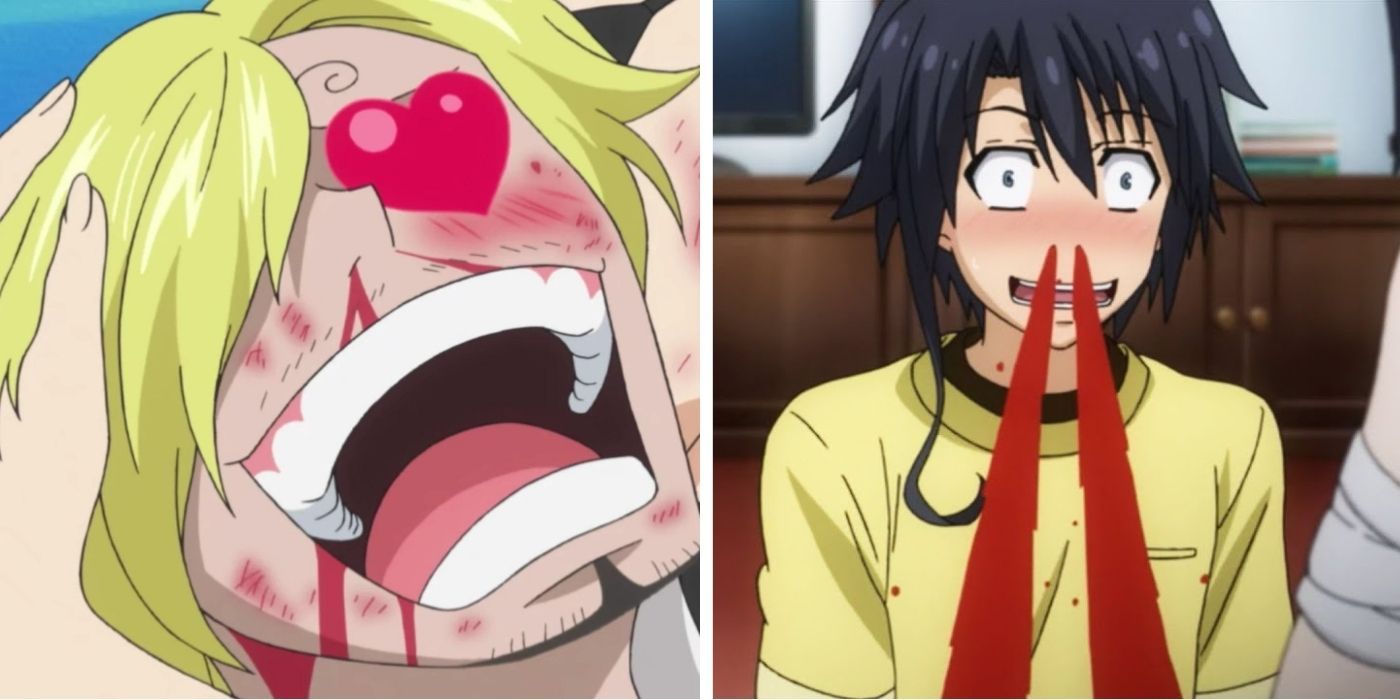 In Hollywood, nosebleeds are usually the result of fisticuffs or paranormal activity. Psychics get nosebleeds, and so do characters suffering from chronic illness, but that's about it.
In anime, getting a nosebleed has a distinctly more erotic connotation, much to the bemusement of Western audiences. Characters get nosebleeds when they're feeling amorous, especially when a love interest or "sexy" character does something unexpected or revealing. Sanji of One Piece bleeds from the nose so often it's a wonder he's still alive, but he's far from the only character to faint with hearts in their eyes and blood down the front of their shirt.
6 Sighs So Heavy They're Visible
Is there any visual trope in anime more relatable than the visible sigh? This bit of symbolism needs virtually no explanation. Some situations are so exasperating or irritating that a heavy sigh doesn't feel like a strong enough reaction: enter, then, a puff of mushroom-shaped smoke.
Sometimes a single hand-drawn sigh says more than a thousand words.
5 Dull Eyes Have Many Implications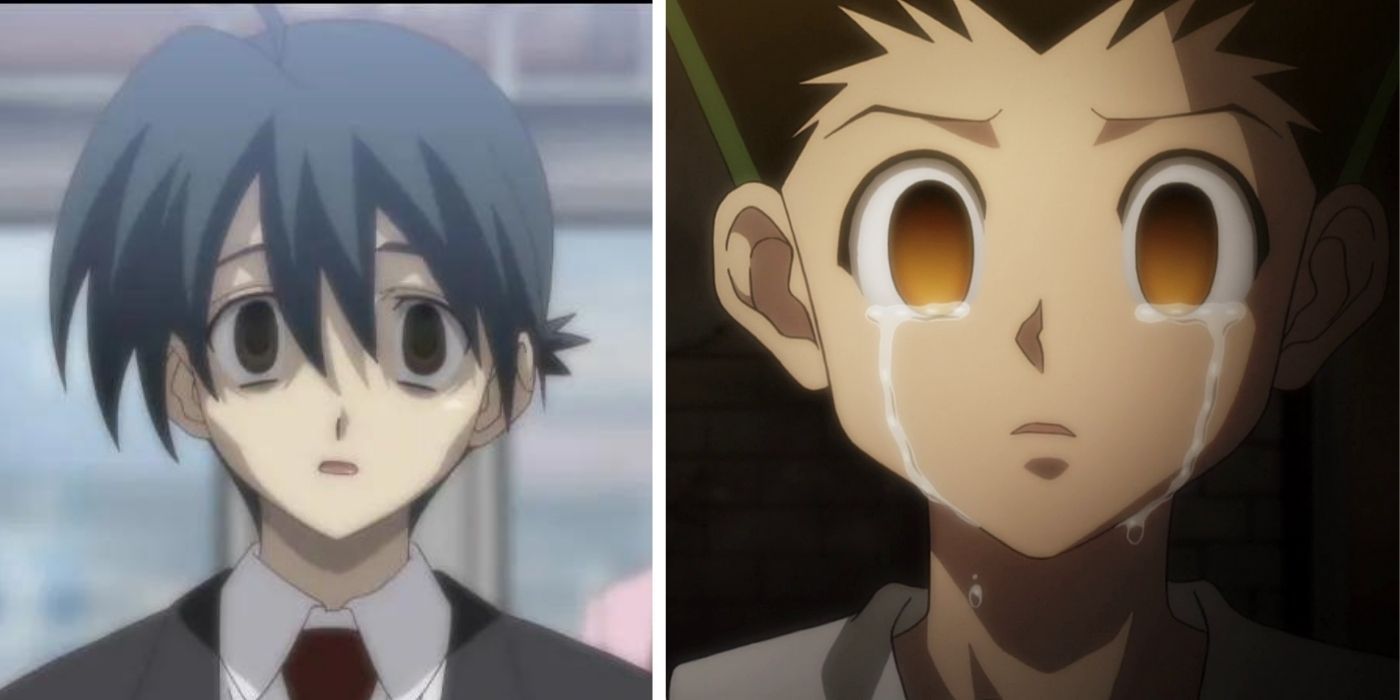 Often in literature, characters are described as having "empty" eyes. While this can mean that a character is devoid of thought or empathy, it can also suggest that a character is beyond the point of feeling.
In anime, blank, flat eyes often imply extreme trauma or harrowing apathy. A character whose eyes usually sparkle with life go dark when a loved one dies or a revelation floors them.
4 The Soul Actually Leaves The Body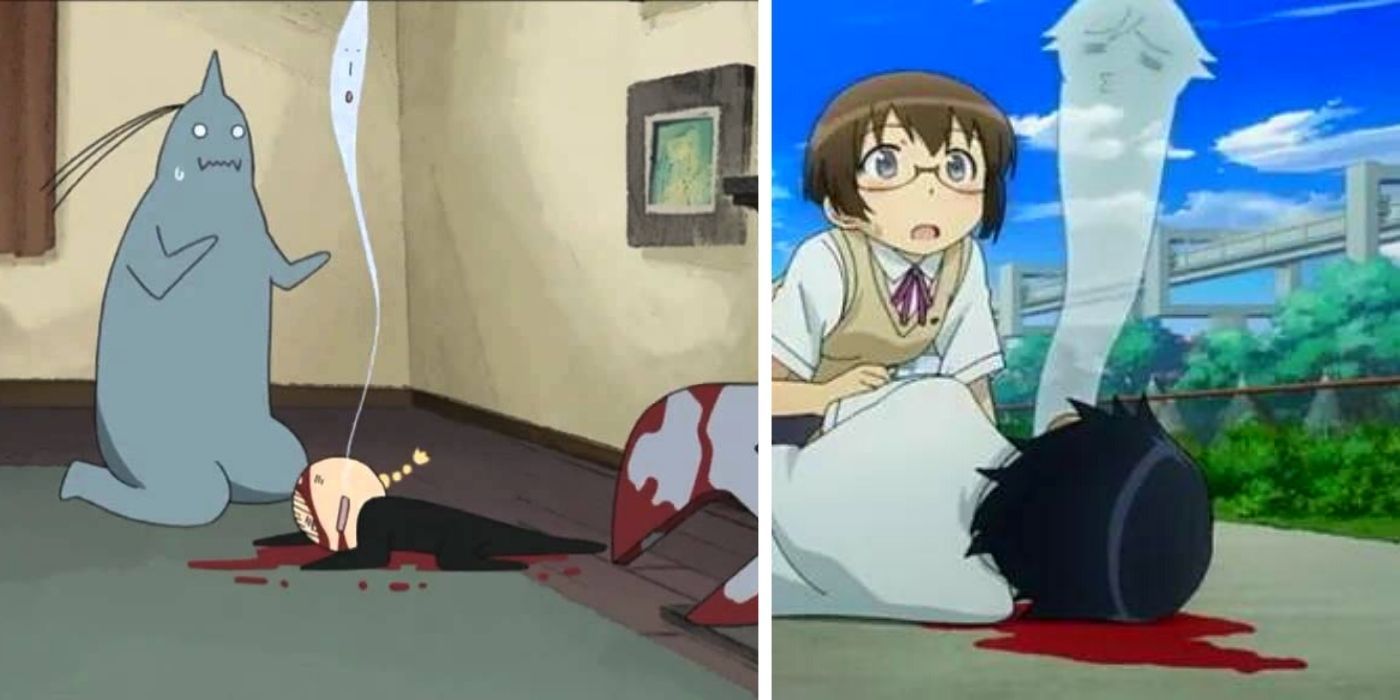 People have often described out-of-body experiences, but few mediums depict this sensation so literally as anime does. Whereas in Western media, an out-of-body experience is a psychological or metaphysical experience often described by those close to death or high, that's not the case here.
Most often, this sight gag is played for laughs. A character who's beaten either literally or verbally will often collapse in a pool of blood with their soul leaking from their mouth, leaving friends to panic over their evaporating spirit. Bizarre as this depiction is, the sensation is pretty relatable.
3 Cat Smile = Mischief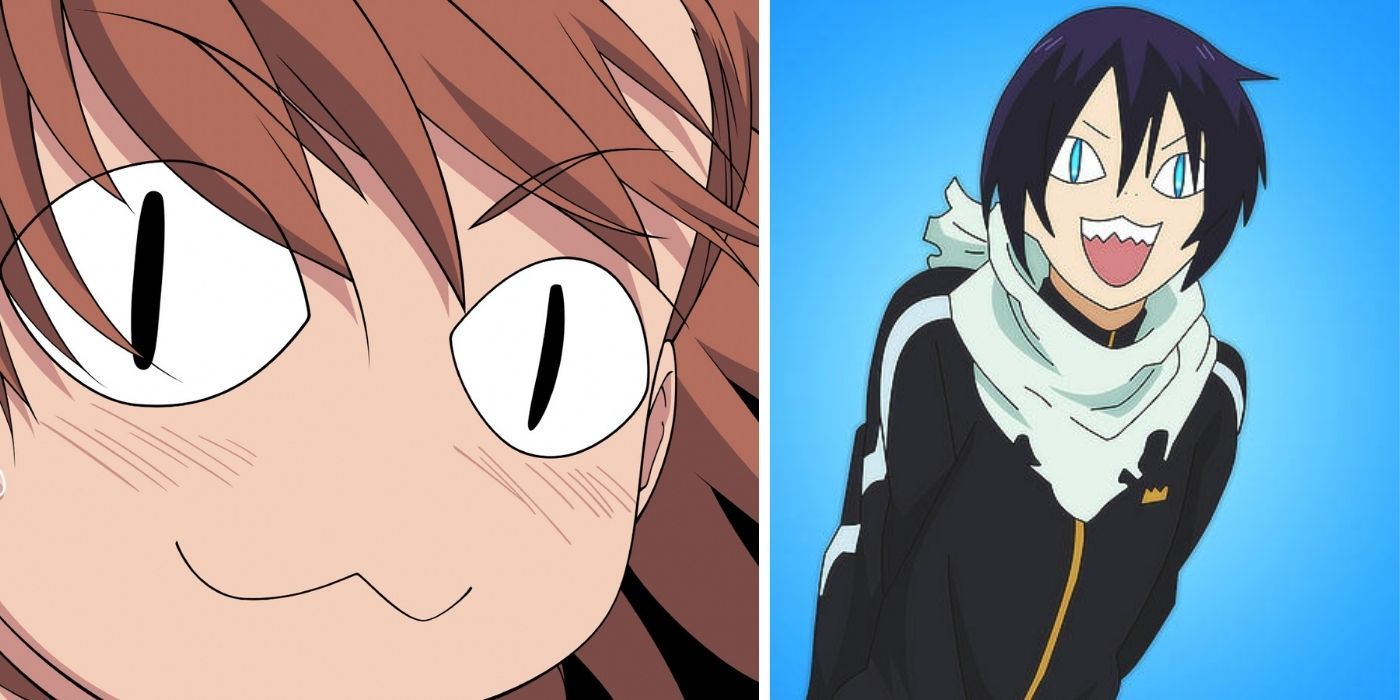 Few creatures in the world are as downright mischievous as cats. In Japan, cats are among the most popular animals; cat cafes are commonplace and there are shrines dedicated to Maneki-Neko, the cat of good fortune.
Given this, it's hardly surprising that cats appear often in anime, and sometimes, characters behave like cats. A character who's up to something mischievous or naughty will often be drawn with a snaggletooth and catlike mouth, often accompanied by slitted eyes and occasionally even ears. While these features are usually temporary, they get the idea across.
2 Love Bubbles Are Atmospheric And Odd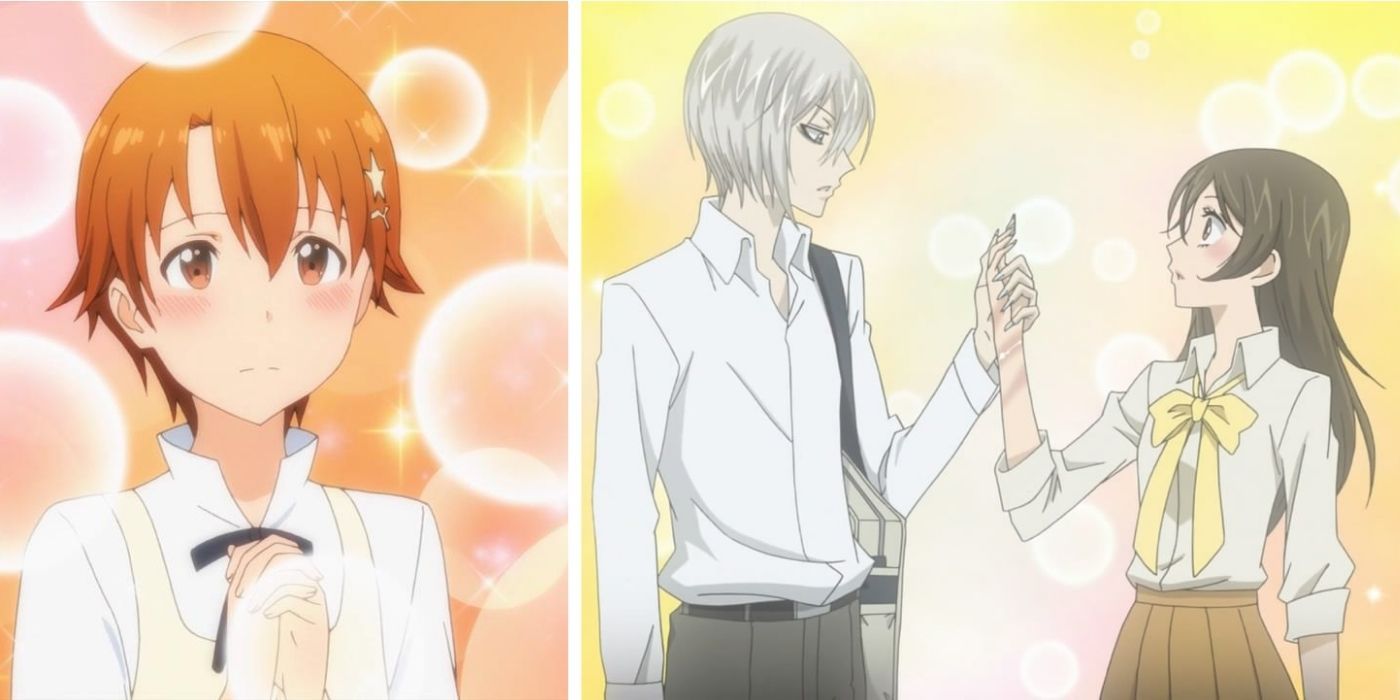 A natural counterpart to the bishie sparkle, the bubbles of love have often been showcased in romance anime. Characters in love are often framed by floating golden bubbles that no one else can see. Ostensibly intended to imitate the bubbly feeling of being or falling in love, these bubbles are often partnered with glittering sparkles or a haze of light.
1 Rainbow Waterfall Puke Is An Anime Staple
No one on this earth gets through life without puking, but very few people are lucky enough to vomit rainbows. Except, of course, in anime. While the reasons a character might vomit are myriad and often familiar: disgust, shock, or sickness – vomiting rainbows is a unique phenomenon.
Japanese censorship laws make it difficult for most daytime series to get away with illustrating actual vomit, just as most American series can't show feces without censoring it. Rather than pixelating puke, many shows now choose the rainbow route.
Link Source : https://www.cbr.com/sweat-drops-uniquely-anime-visual-tropes/