The Vampire Diaries: 10 Hilarious Damon Memes That Only True Fans Will Understand
Plenty of fans love Damon for his sarcastic sense of humor, his dashing good looks, and the sense of danger he brings with him into every situation.
You Are Reading :The Vampire Diaries 10 Hilarious Damon Memes That Only True Fans Will Understand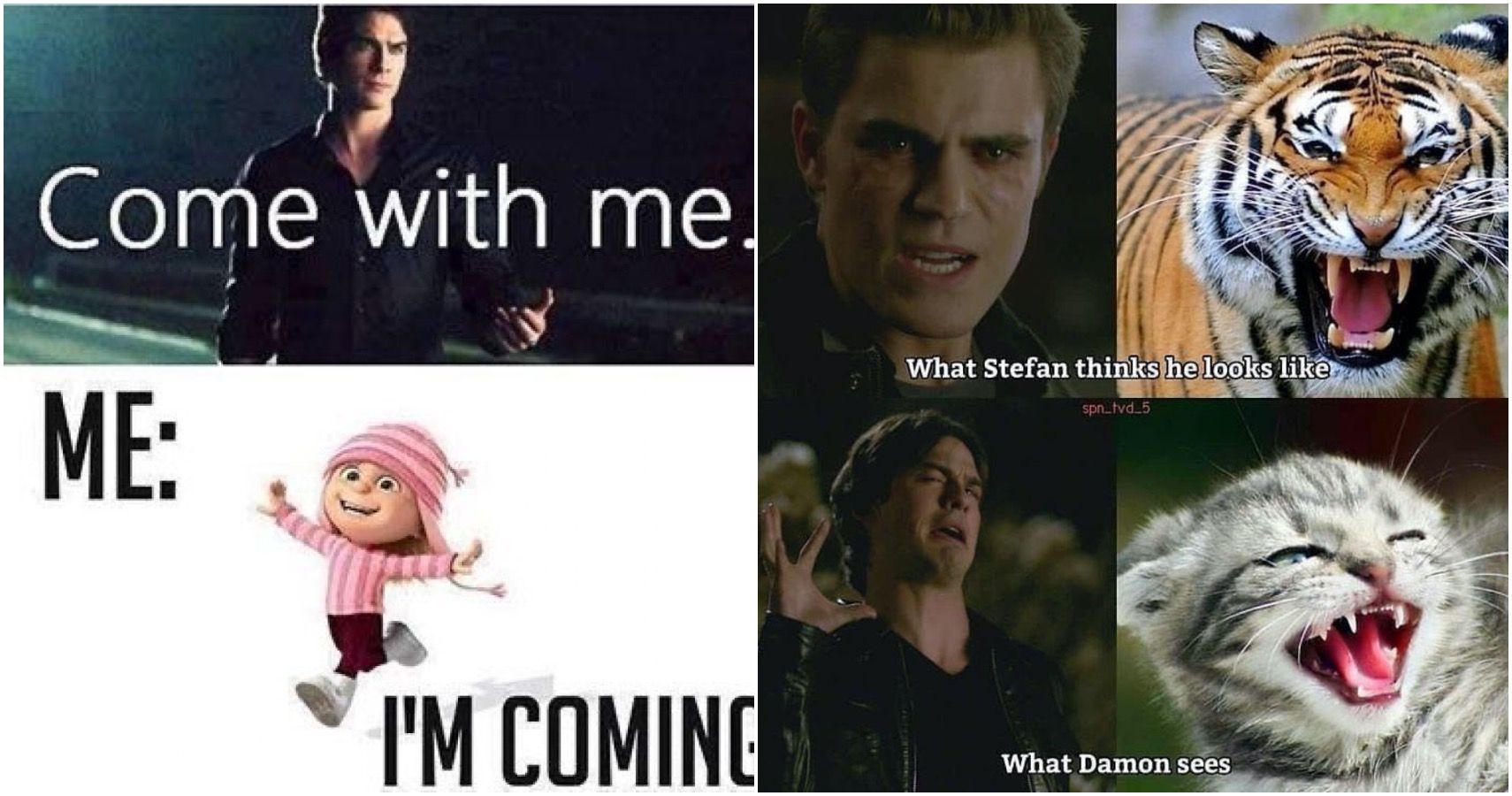 If you grew up watching The Vampire Diaries, or even if you just started watching it recently, you're sure to have a favorite brother between the Salvatores. In this article, we're focused on Damon Salvatore, the "bad" boy brother, for all intents and purposes.
Plenty of fans love Damon for his sarcastic sense of humor, his dashing good looks, and the sense of danger he brings with him into every situation. Most people who love Damon also love it when he and Elena Gilbert finally get together on the show due to the intense chemistry between Ian Somerhalder and Elena Gilbert. So if you love Damon, check out some of these hilarious memes, you may only understand them if you've seen the show in its full.
10 That awkward moment when Elijah gets it wrong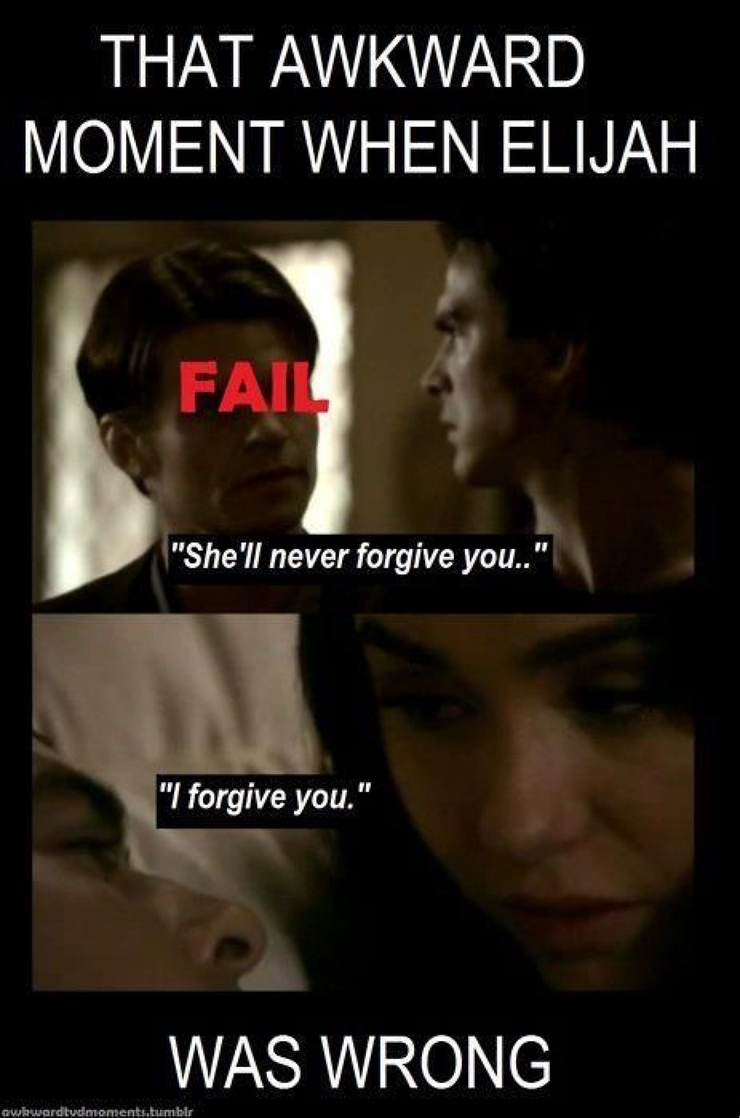 Out of all the Mikaelsons, Elijah Mikaelson is generally considered to be the noblest and trustworthy to the Mystic Falls gang. The Originals fleshes out the Mikaelsons more than The Vampire Diaries does but in the beginning when we meet Elijah, that's what Elena believes.
He also tells Damon at one point that Elena will never forgive him for some of the horrible things he's done, namely when he feeds her his blood on the off-chance she dies without considering her feelings. However, that obviously winds up not being true as Elena forgives Damon on his death bed and even offers him the softest of kisses.
9 When Damon calls, you follow
When Damon Salvatore asks you to go somewhere you follow without hesitation. Maybe it'll lead to your untimely demise but it might be worth it to get to spend a moment with the irresistible and always charming Salvatore brother.
Of course, in reality, you might not want to throw caution to the wind and speed off after a deadly vampire but it's hard to do that when Damon is so attractive.
8 What Stefan thinks he looks like versus what Damon sees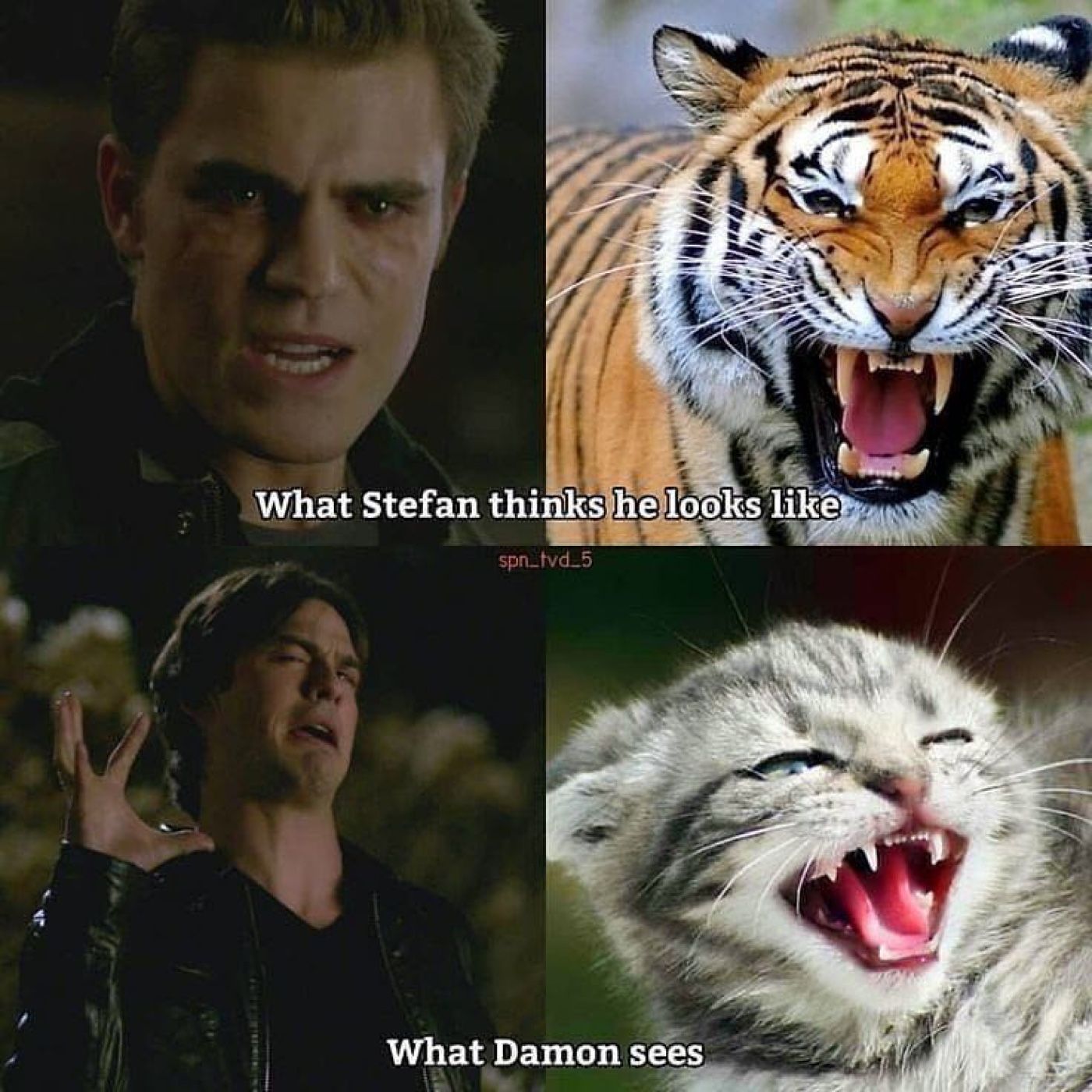 This meme is especially true in the early seasons of the show before Stefan went all ripper-crazy with Klaus. In the beginning, Stefan only fed on animal blood which made him seem pretty meek and mild as a vampire.
Even though he might have thought his scary vampire face was quite foreboding, knowing that he saved it for Bambi and friends somewhat diminished the effect. As the meme points out, Damon definitely saw Stefan as more of an angry kitten than a full-blown tiger hunting its prey.
7 Edward Cullen meets the Salvatore brothers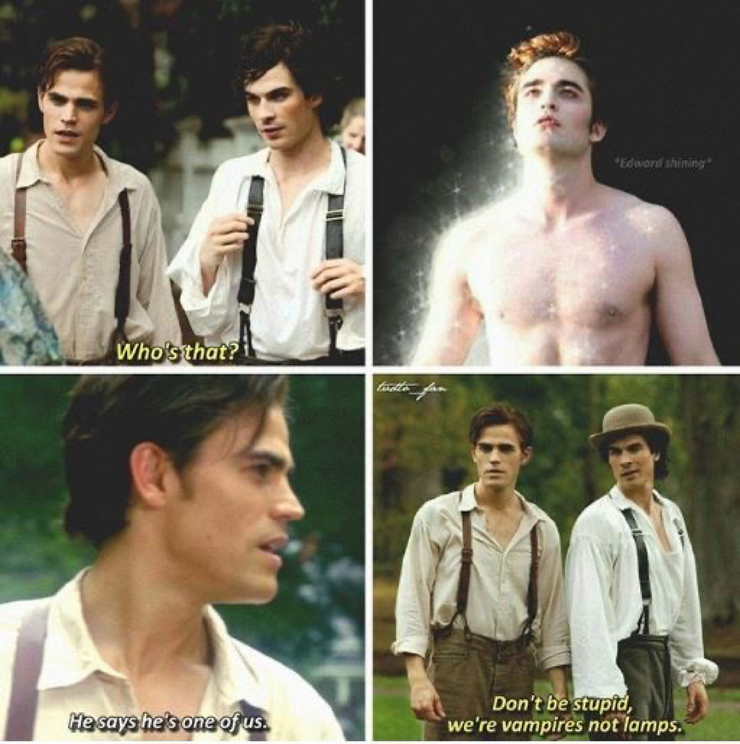 It's always interesting to imagine what would happen if vampires from completely different mythologies encountered one another out in the world. What would the Salvatores make of someone like Edward Cullen?
While Stefan might think he's the same as them, Damon would immediately make fun of Edward for sparkling in the sunlight. In fact, there was a moment on the series where Damon did just that in the first season. So it's humorous to imagine how that interaction might have gone down back in the day when Damon and Stefan were first turned.
6 Nobody's perfect…except the Salvatores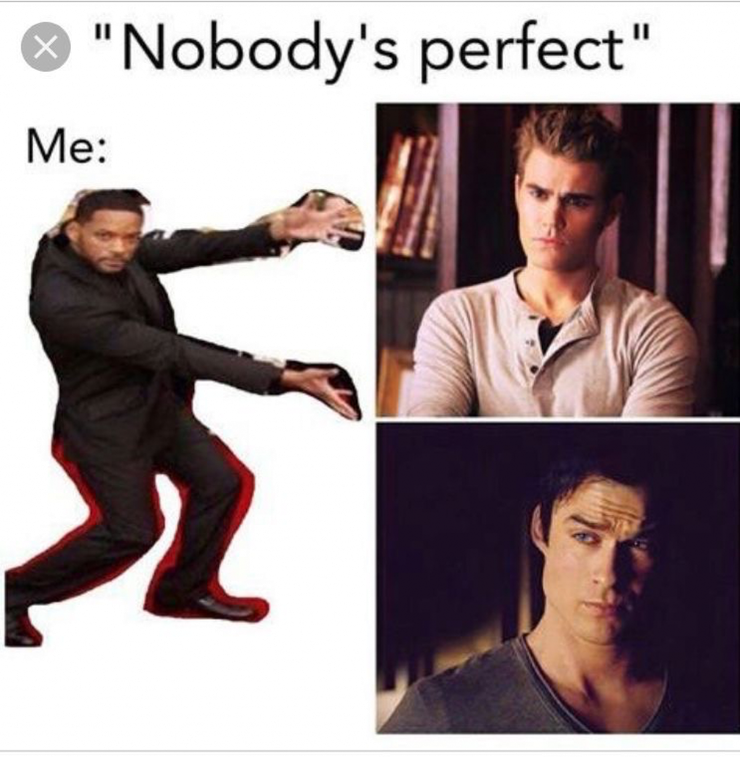 It's hard to argue with this meme. When you're out in the dating world and turning up dud after dud it can be easy to believe that all the fish in the sea are gone.
But then you remember that someone as charming and attractive as Damon Salvatore exists in the fictional world of The Vampire Diaries and suddenly you have an escape, at least for a little while. If Damon isn't your cup of tea, at least he has an equally attractive brother!
5 #ForeverAlone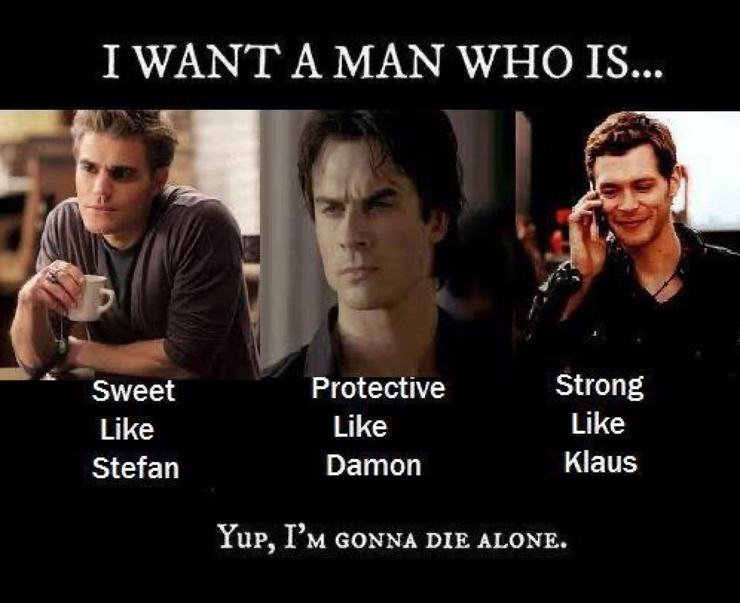 One thing that watching The Vampire Diaries is sure to do is give you a complex about the dating world. How are you supposed to settle for anyone less attractive than Damon, Stefan, or even Klaus? There are so many hot people in the world of TVD that it's impossible not to carry those standards out into the real world.
You want the best traits of each and it's hard to find that in one person. So yeah, it's easy to believe you might die alone and this meme becomes extremely relatable.
4 Hello, brother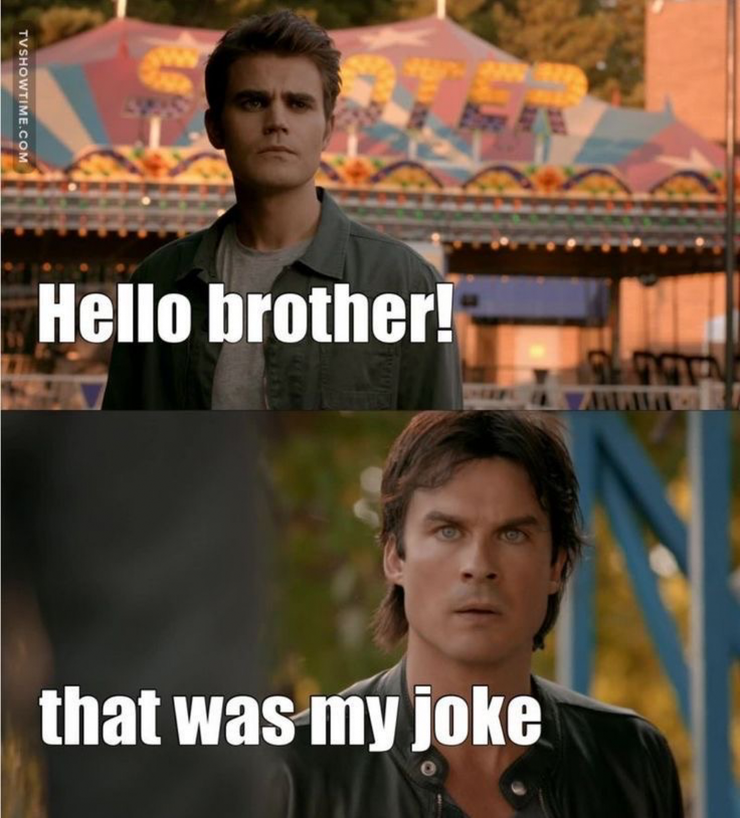 Damon's first line on the series is "hello, brother" and he also utters it a couple of other times throughout. Damon gets to say it again at the very end when he and Stefan meet once more in the afterlife. Yet in this meme, we get to remember the moment that Stefan uttered the phrase and Damon is annoyed.
That is his joke, after all. Damon spends so much time being snarky and sarcastic that it's not hard to believe he takes serious offense whenever someone tries to claim one of his witticisms or moments as their own.
3 Shipping on The Vampire Diaries gets complicated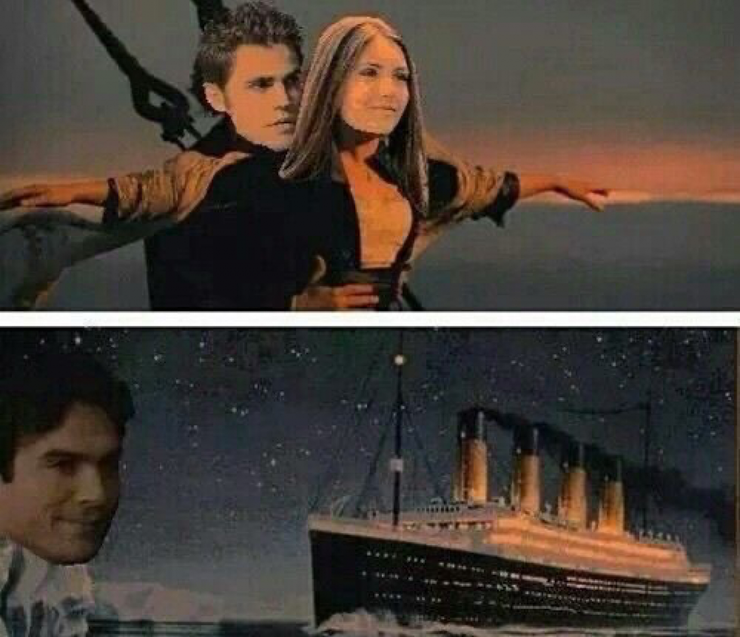 Damon Salvatore has always been the wrench in the middle of the Stefan and Elena relationship. While the two of them were going steady for the first few seasons, Damon's growing feelings for Elena quickly became a problem for the young couple.
As you can see illustrated in this meme, Stefan and Elena were like Rose and Jack on the Titanic and Damon was the giant iceberg that comes and sinks their ship and the literal Stelena ship.
2 Does Damon steal his jokes?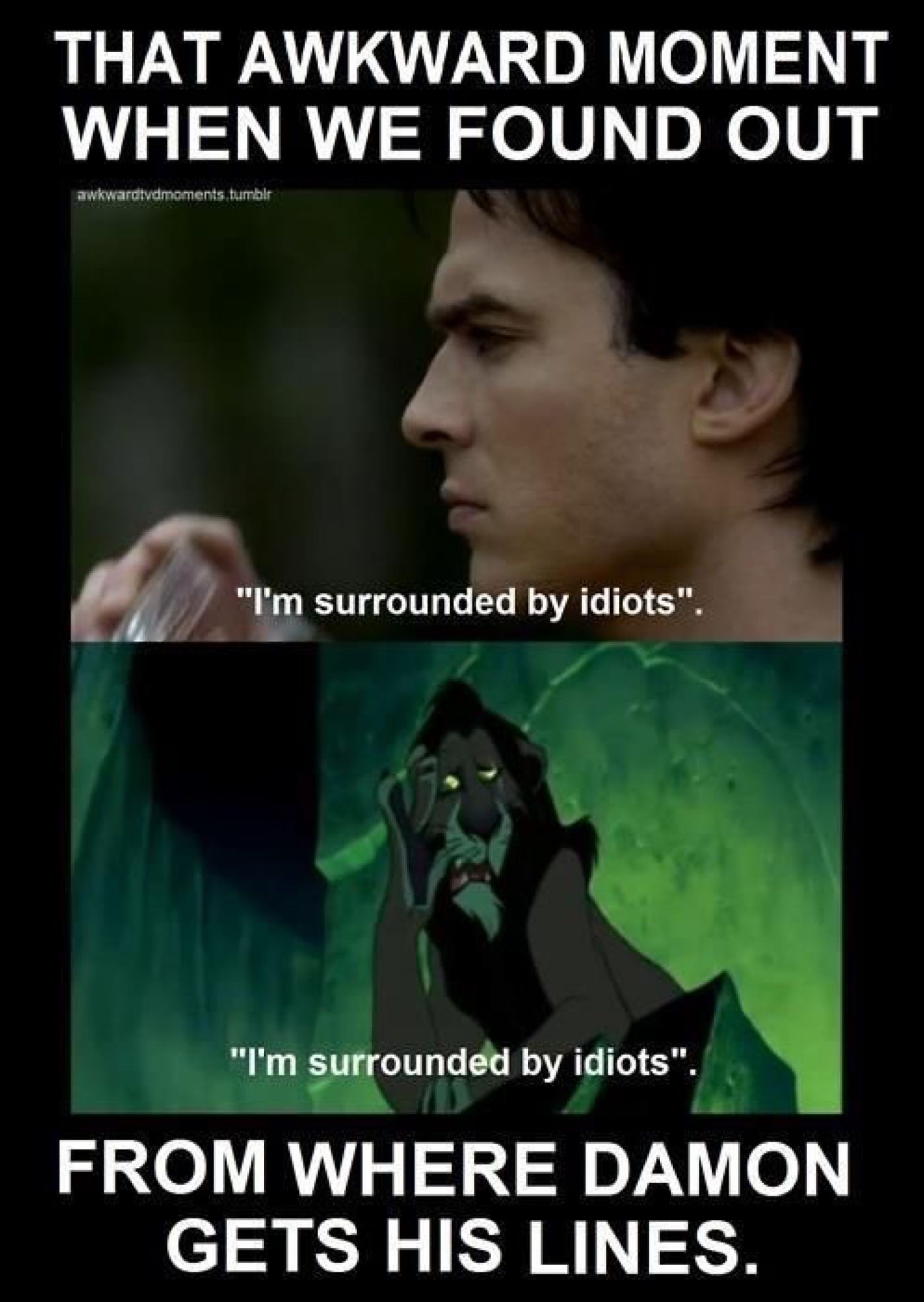 Like we mentioned above, Damon is super protective of his jokes. But could it be that he mimics and steals lines from other pieces of media? There was a time when one of Damon's many quotes was verbatim from a line Scar uttered in The Lion King.
While in reality, this is likely just a coincidence, it's funny to imagine that Damon Salvatore, of all people, spends time watching The Lion King and decided to copy from Scar. The two characters do share quite a few things in common.
1 Awkward three-way call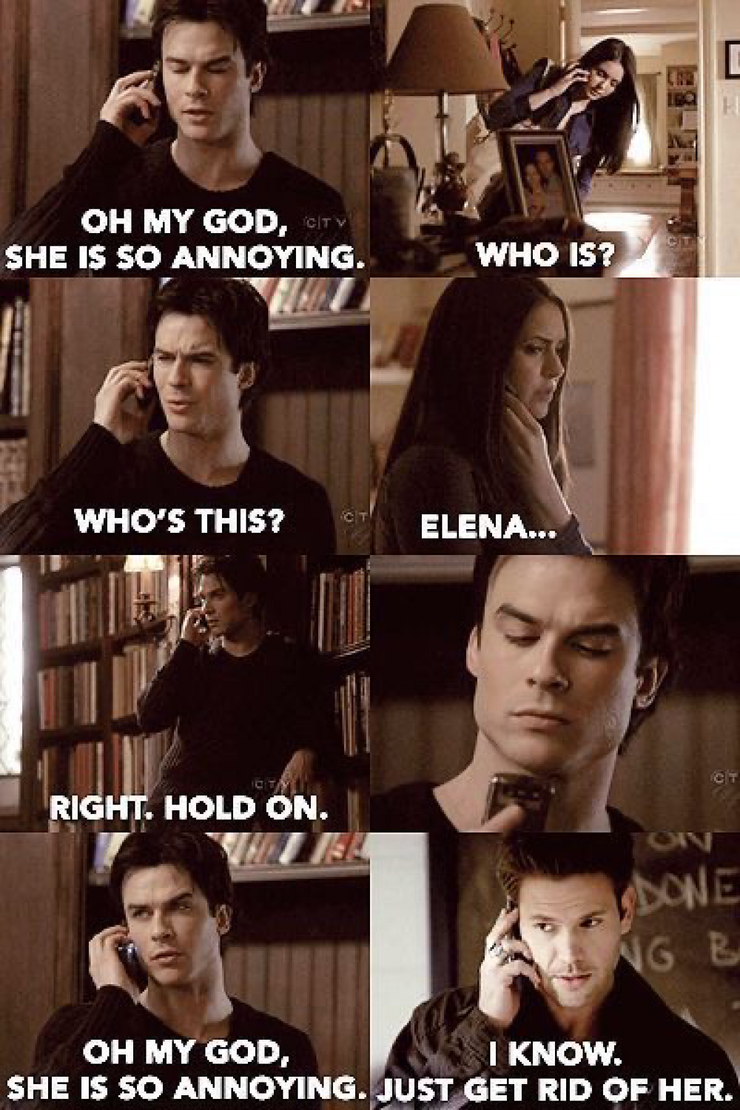 You can't go wrong with a good Mean Girls reference and this meme does it well. Elena is Gretchen in this scenario, Damon is Karen, and Alaric is Regina.
Of course in the show, all three of these characters care deeply about each other but it's still funny to imagine that Elena is somehow getting in the middle of the infamous Damon and Alaric friendship and it's also super hilarious to imagine Damon as a Karen-type person.
Link Source : https://screenrant.com/the-vampire-diaries-funniest-funny-hilarious-damon-memes/