The Voice: Ariana Grande Invites Team Over For Thanksgiving
Ariana Grande invites her team members from The Voice, Holly Forbes and Jim & Sasha Allen, over for Thanksgiving. They all sang together.
You Are Reading :The Voice Ariana Grande Invites Team Over For Thanksgiving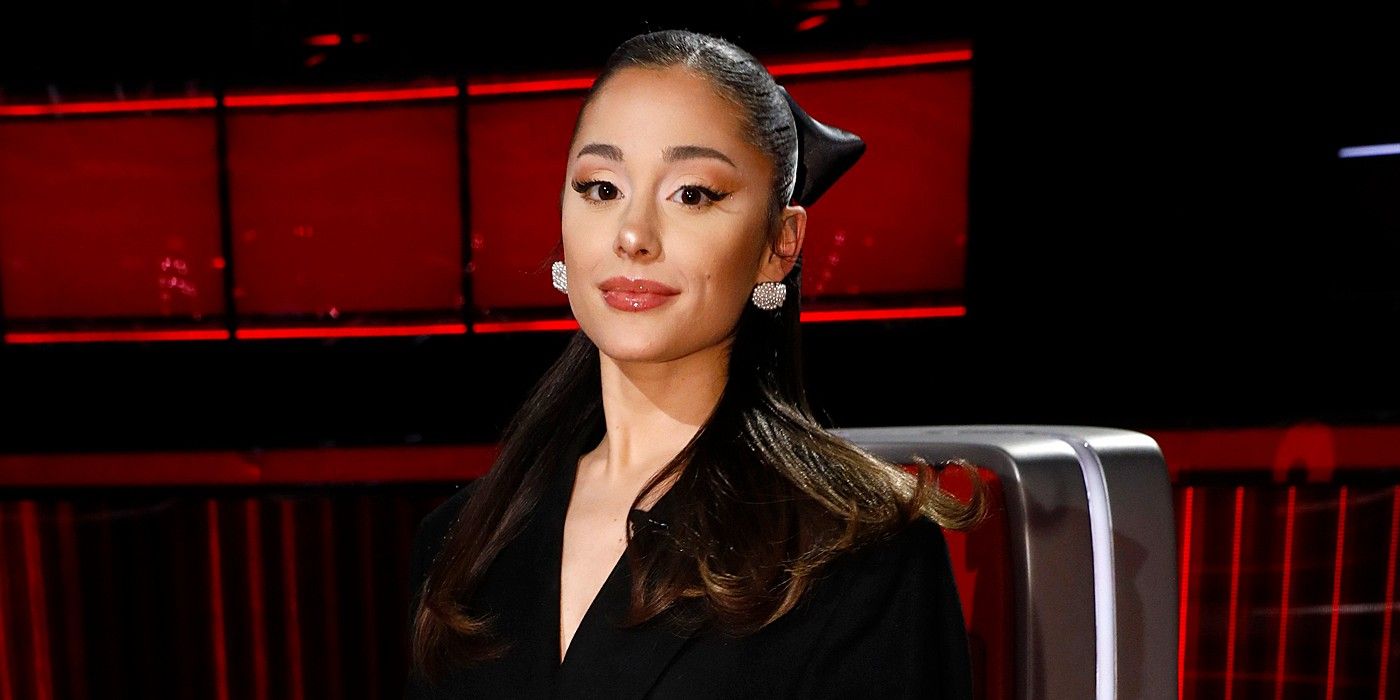 Ariana Grande, the newest coach on The Voice, may be the most personally invested in her artists. Ariana joined the show at the beginning of Season 21, alongside returning coaches Kelly Clarkson, John Legend, and Blake Shelton. There are ten artists remaining, and they are preparing for this season's upcoming Challenge Week, where the artists must make song choices that are out of their comfort zones. Blake and Kelly's teams have three members left, while John and Ariana's teams are down to two artists each. Ariana has been coaching Holly Forbes and father-son duo Jim & Sasha Allen.
While many of the The Voice viewers couldn't wait for Ariana to join the show, her coaching skills have received mixed reviews. Many fans think that Ariana made the wrong decision saving Ryleigh Plank in the Live Playoffs, and she was eliminated the following week. Jim & Sasha, who almost got sent home in the last episode, remain in the competition because they were chosen during the Instant Save. With more popular artists like Girl Named Tom and Wendy Moten on Teams Kelly and Blake, respectively, some fans think that Team Ariana doesn't have a chance of winning this season.
Although Ariana may not win her first Voice season, she definitely seems to have made genuine friendships. She invited her remaining team members to her family's Thanksgiving gathering, and posted videos with her team members. In one Instagram video, reposted by Twitter user grande updte, Ariana and her team members are singing"FourFiveSeconds," the song they performed live during the most recent episode of The Voice. They also sang "Help" by The Beatles.
new video of @ArianaGrande celebrating thanksgiving with friends, family and #TeamAriana pic.twitter.com/RiuNGaBJfB
Sasha also posted an Instagram tribute to Ariana with the following caption. "It all became so much more than a tv show when you entered our lives , and this whole new world that we've found ourselves in feels so much brighter with you in it… People like you are so few and far between , truly . u r a brilliant mentor , the sweetest friend , and idk how all of these beautiful things fell into place but!!! ??! thank god they did ; and thank u , for everything ,.. you hav such a special soul . we love you dearly." Ariana replied with this comment: "THANK GOD for you both and for this cosmic collision. goodness…see you at rehearsal in five minutes, next week is going to be so beautiful and sick. ok love you both."
Regardless of how well Ariana's team members are doing on The Voice, she is undoubtedly one of the biggest stars to ever be a coach on the show. Since the beginning of Season 21, she's also come across as one of the most caring, down to earth, genuine coaches. It's nice to see that she's even extended her relationship with her team when the cameras aren't rolling. It seems that whether or not Holly or Jim & Sasha take home the Voice trophy this season, they have a friend for life in their coach Ariana.
Link Source : https://screenrant.com/the-voice-ariana-grande-thanksgiving-party/