Tinder Testing 'Face to Face' Video Chat Dates: What You Need To Know
Tinder's new Face to Face video chat feature offers members an option to get to know each other better, at a time when meets are not really possible.
You Are Reading :Tinder Testing Face to Face Video Chat Dates What You Need To Know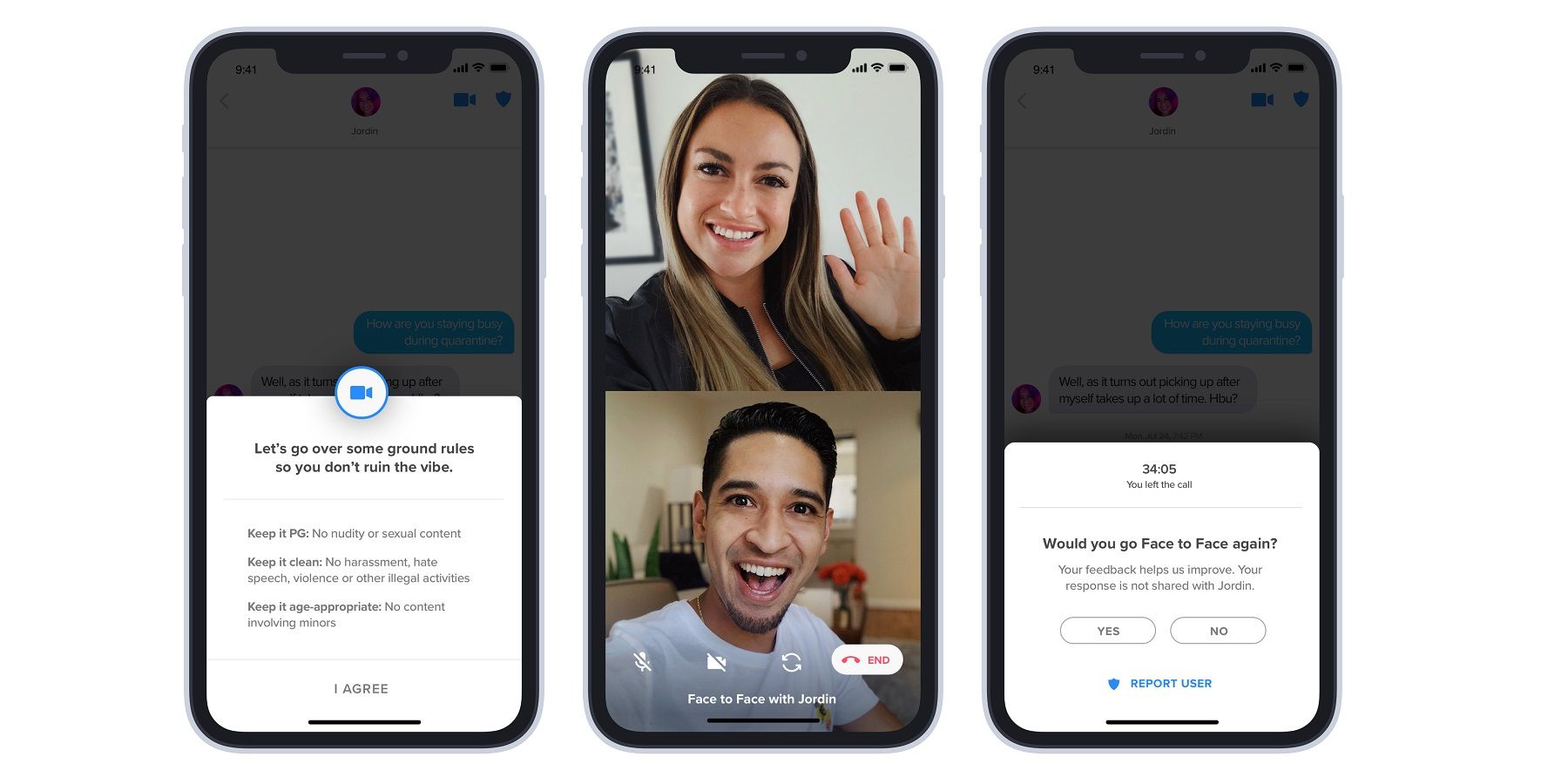 Tinder recently announced that it is now testing a new 'Face to Face' video chat smartphone app feature. This is a video calling add-on that allow two users to connect directly through the app, without exchanging phone numbers. As this is a feature that's in testing, it is currently limited in its availability. Here's what you need to know about Tinder's Face to Face video calls.
The ongoing coronavirus pandemic has brought businesses and socializing to a grinding halt. From the delay in reopening Disneyland in the United States, to a series of movies being pushed back, COVID-19 hasn't spared the love lives of individuals either. With the contagious virus primarily spreading through the respiratory droplets released by infected individuals, 'meet cute' scenarios have been largely discouraged, including by Tinder. At the same time, from celebrities performing concerts to the entire workforce for major companies, everything has adjusted to online. Like many companies, Tinder has been grappling with the issue of trying to keep its user base intact while the world rides out the COVID-19 storm, and Face to Face is a prime example of its new-age approach.
In its announcement, Tinder explained Face to Face is currently being tested in thirteen countries, including the United States, Brazil, France, and Spain, among others. When it comes to the US specifically, Face to Face is only currently being tested in Virginia, Colorado, Georgia, and Illinois. In explaining the reasoning behind the launch of the new feature, Tinder says an internal survey conducted in the United States showed that around 40 percent of Gen Z members of the dating app were eager to use video as a way to decide if their Tinder match was the right fit for a meeting in real life, once the various social distancing measures and orders eased up.
Tinder's Face to Face Puts Privacy First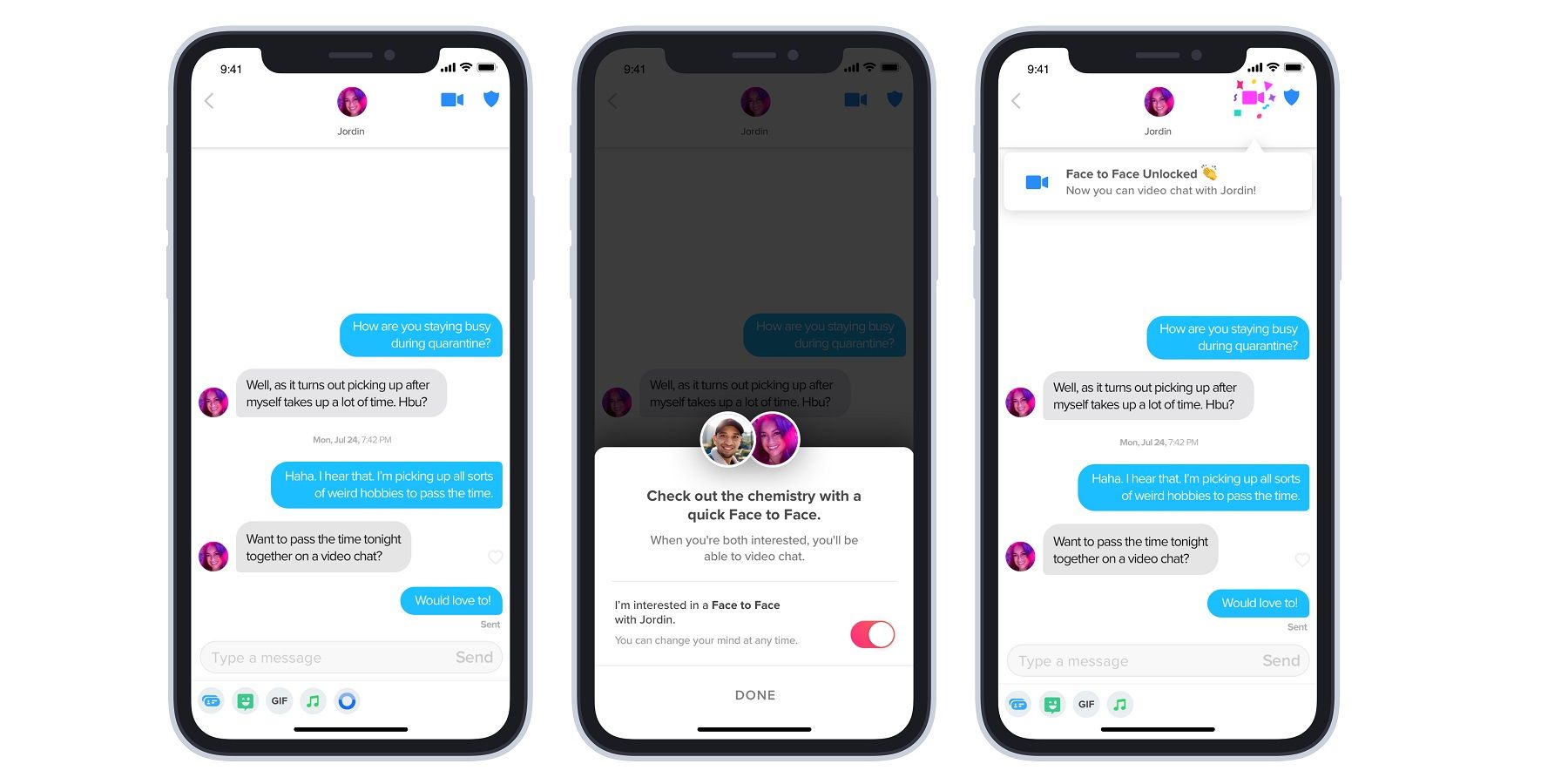 Face to Face doesn't just randomly allow you to video call, since the app enables it on a match-by-match basis. Instead, the app activates the video chat feature only after the conversation gets going, and both parties involved tap the video icon to opt for more of a visual meet. Tinder is also enforcing quality control over the video calling feature. In other words, users have to agree to keep things clean, meaning no harassment, nudity and/or sexual content. Using a simple toggle button, users can choose to turn Face to Face on or off. Once a user has consented to a Face to Face video chat, both users appear in a split-screen format. This design is intentional so that both callers can see how they look (important with a dating app), and avoid any unwanted elements in the background.
The feature is attempting to add an extra level of intimacy to the service at a time when intimacy is hard to come by, in general. However, Tinder appears keen to ensure that additional intimacy does not result in any unwanted or pressured situations through the use of consent. For example, while Face to Face video calls require consent to begin with, neither Tinder member will be aware that the other has opted into a video call until they have also opted in. For anyone who does take part in a Face to Face video date, they should also be aware that Tinder says it will follow up with them afterwards, to gather additional feedback.
Link Source : https://screenrant.com/tinder-face-to-face-video-chat-dates-explained/