Victor Frankenstein Stars Daniel Radcliffe & James McAvoy on Playing God
Victor Frankenstein stars James McAvoy and Daniel Radcliffe talk about the unique relationship between Victor and Igor.
You Are Reading :Victor Frankenstein Stars Daniel Radcliffe & James McAvoy on Playing God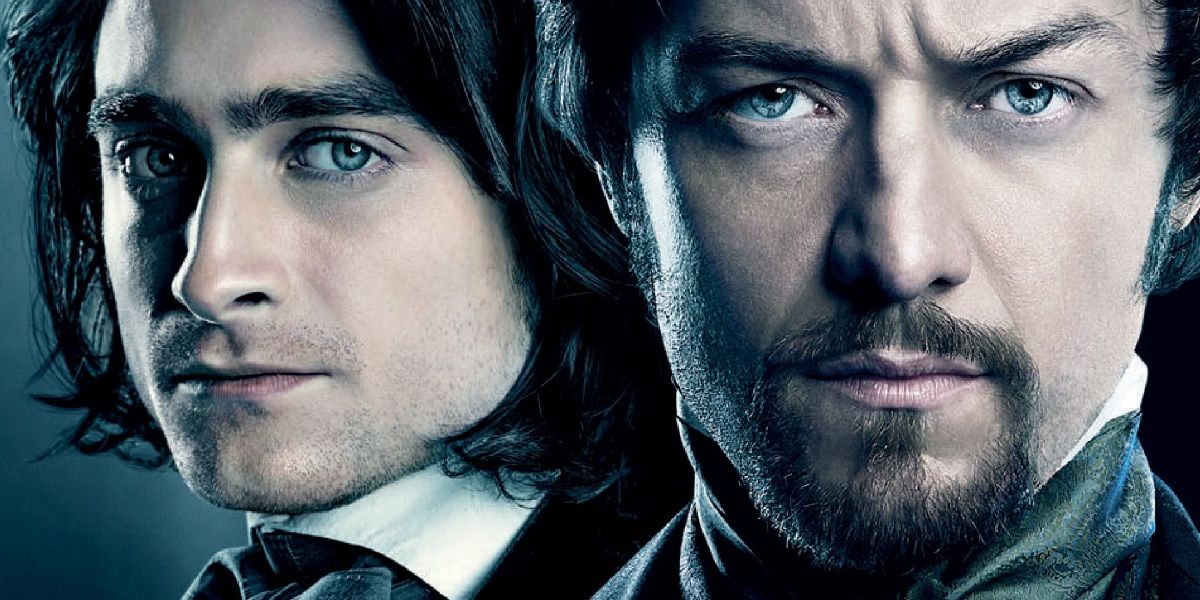 In the space of 200 years, Mary Shelley's horror novel Frankenstein has long been a subject of fascination for filmmakers, and has been adapted so many times now that people have came to associate the title with many things that were never in the book – perhaps the most prominent of which is Victor Frankenstein's hunchback lab assistant Igor (initially called Fritz, in James Whale's 1931 film). Frankenstein's underdog sidekick has since been the star of his own movie, and also spawned an entire sprawling family of Igors in Terry Pratchett's Discworld novels.
The latest actor to play the role of Igor is Daniel Radcliffe, in director Paul McGuigan's new take on the legend of Victor Frankenstein. Radcliffe plays Igor as a deformed circus clown, who is taken from his humble trappings by the brilliant, egomaniacal Dr. Frankenstein (James McAvoy) and becomes a willing participant in a series of gruesome experiments to conjure dead flesh back to life.
Last year we joined Igor in his circus home, which was actually a massive, fully constructed tent inside Shepperton Studios in London filled with extras in period costume and performers in circus outfits. The two leads, Radcliffe and McAvoy, were filming a scene in which Jessica Brown Findlay's character, a trapeze artist named Lorelei who also happens to be Igor's best friend, suffers a nasty fall and needs the help of a doctor. Fortunately, there happens to be a doctor in the house.
"[Igor] develops an insane loyalty to Victor," Radcliffe explains. Not only does Victor save Lorelei, he also rescues the hunchback from his miserable home and his life as an "abused, mistreated, really ugly creature." He fixes Igor's deformity, pulls him up through the ranks of society, and discovers his unique intellectual capabilities. Igor has plenty of reasons to be grateful, but Victor isn't acting out of pure charity.
"Igor has something that he needs, so he harnesses him," McAvoy says bluntly. "He's a user, Frankenstein is very selfish and personally driven." Those aren't the only unkind words that McAvoy has for his character. He describe's Victor's "massive f—ing ego" and his "myriad of personality disorders." Yet even as Victor works his magic on Igor, Igor is also affecting him in return as their relationship develops. "He can't really connect with anybody because… all he sees is what he wants and what he wants to get out of it," says McAvoy. But when Victor meets Igor, "he suddenly finds somebody who is exceptional and on a par with him… something of Igor gets through to him and they do form a loving relationship."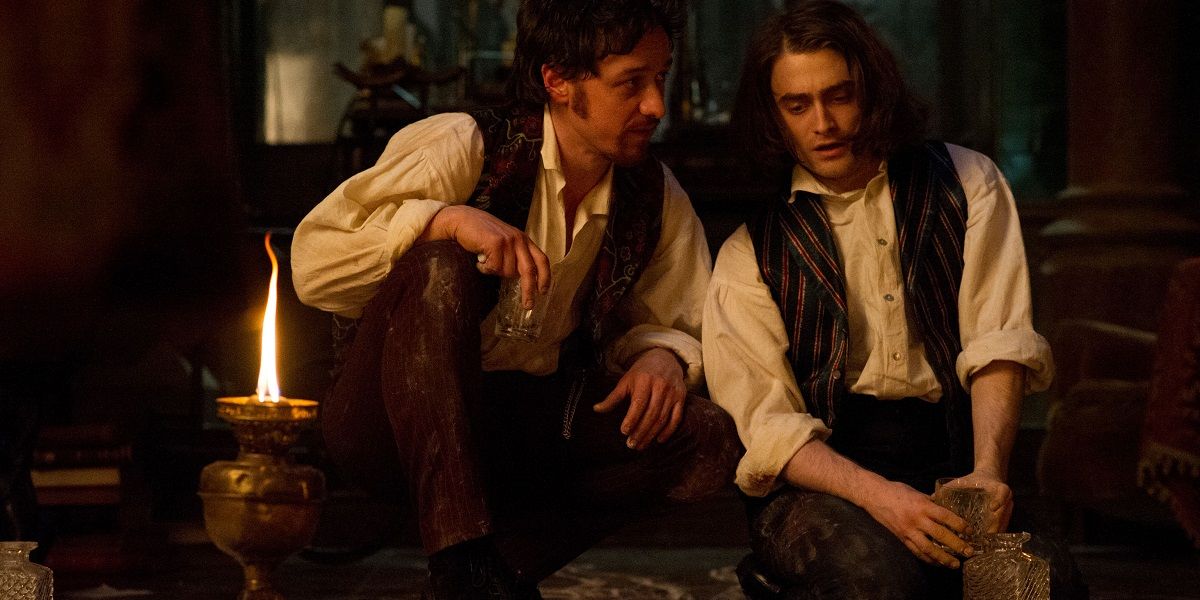 Victor's excitable nature and his complex relationship with Igor mean that virtually everyone we spoke to on set described the two roles as extremely physical. As Radcliffe explains, this involves a certain level of trust that isn't always easy to achieve between actors.
"In my experience in doing various physical scenes with people, half of your energy that day is just spent in getting the other actor to engage physically with you. Most actors don't do it, don't want to hurt you, but James and I have enough confidence in each other that we're not going to hurt each other. It's amazing working with James on that level; he gives 100% every time. He just throws me around. I'd like to think I've been the most willing victim he's ever had. Pretty much our first day actually was him repeatedly slamming me against a pillar; so yeah, that set the tone."
The science of the film is equally physical. McAvoy describes it as a science of "rust and sweat and blood and tears and big levers," with Victor as "an engineer of the human body" rather than a gentle physician or the kind of scientist who spends long hours hunched over a desk, peering down a microscope. Although Victor Frankenstein is set a little further ahead in time than Shelley's original novel, the film's aesthetics and its story are "very much born of the industrial revolution."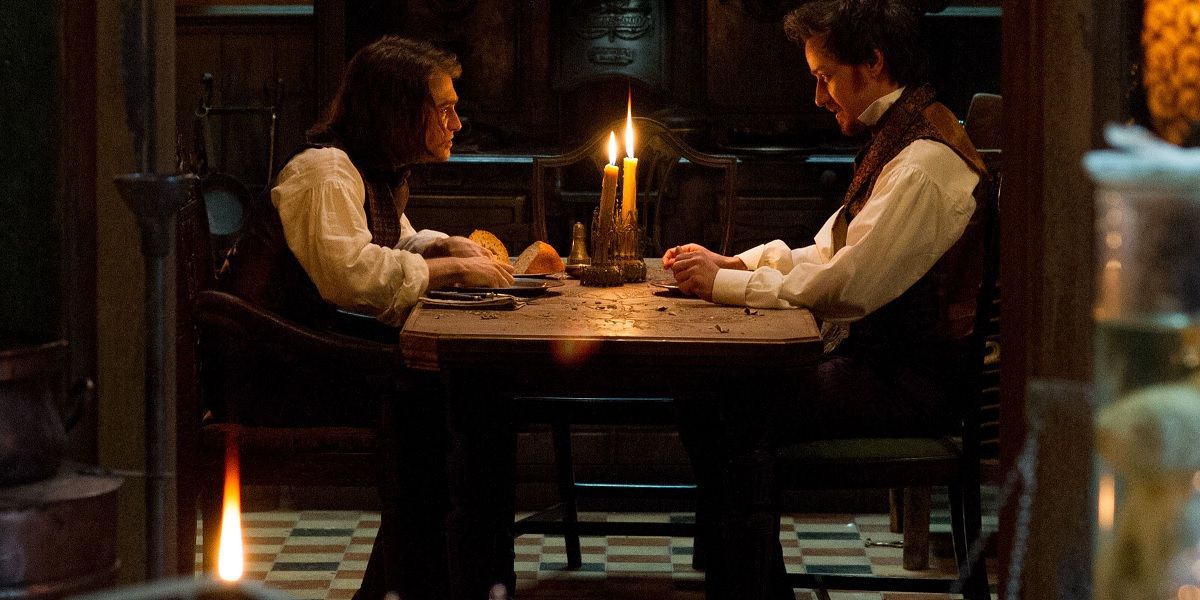 One of the constant themes throughout the many different interpretations of Frankenstein is the idea of pushing science to the very edge and playing God, and the consequences that come with it. As in the original novel, Frankenstein does have some good intentions buried in his obsessive love of science. "He's trying to improve the human condition," says McAvoy. "He's trying to improve this fragile state that we all find ourselves in. He's trying to prolong life, he's trying to banish death."
Yet, as Radcliffe explains, the monster that many have come to associate with the name Frankenstein doesn't appear until much later in the film than audiences might expect. Both McAvoy and McGuigan describe Igor as being Victor Frankenstein's first real creation, and Radcliffe suggests that this turns Victor into a combination of a best friend and a father figure for Igor.
"Victor saves me, and then creates me, gives me this identity, and a new physical appearance – it engenders that loyalty. In that moment, the finale of the film is set up, you need to establish that loyalty, because he treats me so badly throughout the film, that you would be going, 'Well why are you even bothering with this guy anymore?' And actually it's the fact that Victor at the beginning was the only person who ever saw anything in me enough to try to save me."
From the actors' description of the characters and their relationship, Victor Frankenstein sounds as much like a platonic love story as it does a horror movie. Stay tuned to Screen Rant for more details and interviews from our visit to the set.
Victor Frankenstein releases in theaters on November 25th, 2015. Watch the trailer below.
Hannah has been with Screen Rant since 2013, covering news, features, movie premieres, Comic-Con and more! You can follow her on Twitter @HSW3K
Link Source : https://screenrant.com/victor-frankenstein-james-mcavoy-daniel-radcliffe-interview/