Who Is Hawkeye's Masked Villain: Yelena's Return Finally Teased?
Marvel Studios teased a mysterious masked villain in Hawkeye episode 4's trailer. Could this be Yelena Belova's highly anticipated return?
You Are Reading :Who Is Hawkeyes Masked Villain Yelenas Return Finally Teased
Yelena Belova's Marvel Cinematic Universe return in Hawkeye episode 4 may have been teased thanks to a mysterious masked villain. Florence Pugh only joined the MCU a short time ago due to Black Widow's multiple delays pushing its release to July 2021. She quickly turned Yelena into a hugely popular character, making Marvel Studios' decision to use Black Widow's post-credits scene to tease her future even better. Now there might finally be a glimpse at her next appearance in Hawkeye.
Black Widow's post-credits scene made it clear that Yelena would return in Hawkeye, but she did not appear in the first three episodes. The Disney+ series instead has kept its focus on the stories of Clint Barton (Jeremy Renner) and Kate Bishop (Hailee Steinfeld). However, Yelena's mission to get revenge on Clint after he is blamed for Natasha Romanoff's Avengers: Endgame death means she's set to create havoc once she appears. There has been some disappointment, though, that Yelena hasn't already entered Hawkeye's narrative. It is known that she'll be part of the story during the final three episodes, even if the level of her involvement remains a mystery.
After not even being teased during the first three episodes, a trailer for Hawkeye episode 4 likely showed a glimpse at Yelena Belova's return. The footage revealed the first look at a new, mysterious masked villain. The character wears an all-black suit with green-glowing night vision goggles. Although the face is completely concealed, this is a near-identical match to one of Yelena Belova's comic book looks. While she is better known as another Black Widow, Yelena became Super Adaptoid at one point and received a black outfit and green goggles. Yelena's blonde hair flows freely in the comics version of this outfit, but the MCU appears to have changed it to try and keep her identity a secret. However, the green goggles are a dead giveaway that this is Yelena's new look for Hawkeye.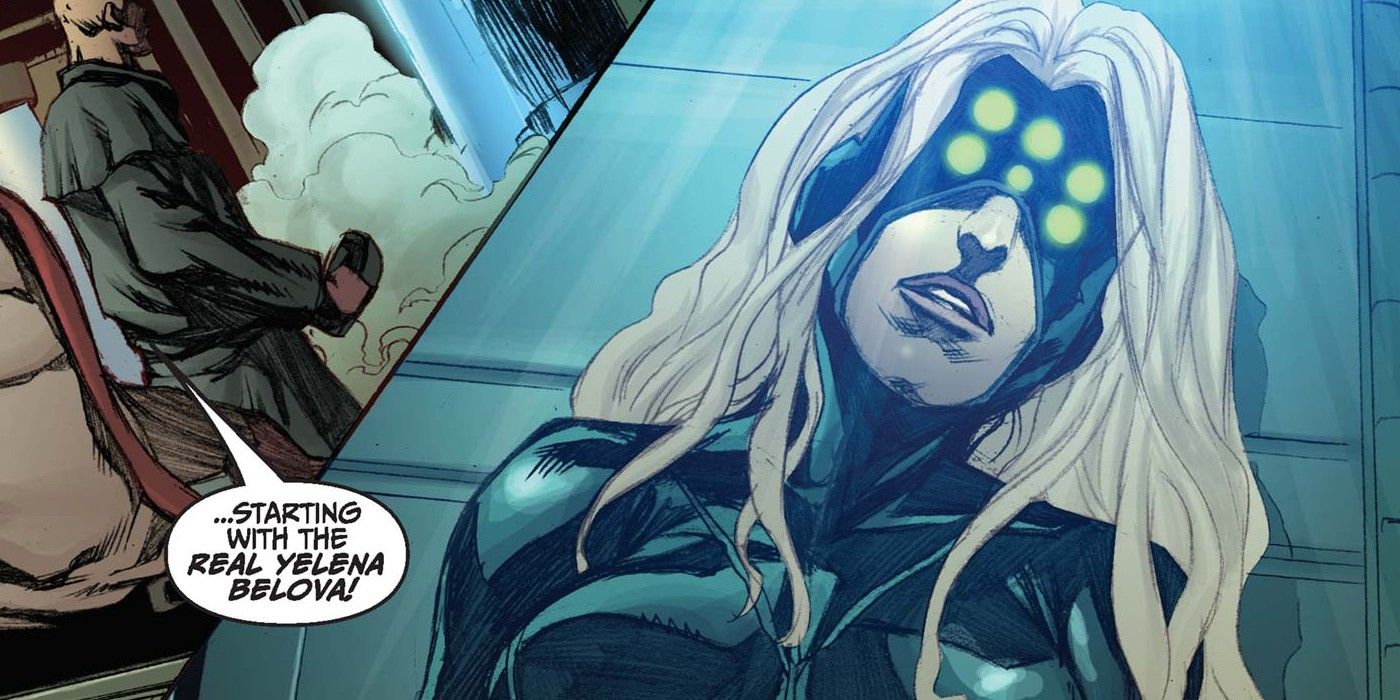 Yelena's masked villain look for Hawkeye is quite different from the white Widow suit and green jacket she wore throughout most of Black Widow. It is understandable why her MCU costume has evolved so much for this appearance, though. Yelena is now working for Contessa Valentina Allegra de la Fontaine (Julia Louis-Dreyfus) and her possible Dark Avengers team. This masked look and special goggles could represent the upgrades she's received by working with Val as she hunts down Hawkeye. During her time as Super Adaptoid in the comics, Yelena was able to mimic any physical movement, much like Taskmaster, so her new suit could even have Taskmaster's MCU tech infused with it.
With Yelena likely to be Hawkeye's masked villain, it does raise another question about her MCU future: is this her new permanent look? It's been expected that she would walk right into the Black Widow mantle and continue Natasha's legacy in that way. Yelena's Hawkeye look could indicate that she's going in her own, possibly darker, direction following Nat's death. Then again, she could also choose a masked look to try and conceal her own identity during these missions.
Link Source : https://screenrant.com/hawkeye-yelena-belova-episode-4-masked-identity/