Why Agents of SHIELD Originally Chose Robbie Reyes For Ghost Rider
Here's why Marvel's Agents of SHIELD season 4 picked Robbie Reyes to be the show's Ghost Rider, as opposed to the more popular Johnny Blaze.
You Are Reading :Why Agents of SHIELD Originally Chose Robbie Reyes For Ghost Rider
When adapting Ghost Rider, Agents of SHIELD picked Robbie Reyes, a relatively new version of the Marvel Comics anti-hero. In the comic books, several humans have served as hosts of the Spirit of Vengeance, including Johnny Blaze, Danny Ketch, Alejandra Jones, and Robbie Reyes, a young man who drives a demonic car rather than a motorcycle.
In the Agents of SHIELD season 4 premiere, Daisy Johnson (Chloe Bennet) had a shocking encounter with a demon known as the Ghost Rider, who drove a 1969 Dodge Charger with flaming wheels. Though the SHIELD team at first regarded Robbie Reyes (Gabriel Luna) as a potential enemy, he proved to be a capable ally against the Watchdogs, and later, against the season 4 big bad, Aida (Mallory Jansen). When it turned out that Ghost Rider's dark power was her only weakness, he became the key to her downfall. To secure her defeat, Coulson (Clark Gregg) made a deal with Ghost Rider that eventually resulted in his death. Though Robbie was mentioned several times after his appearance in the season 4 finale, he never returned to the series.
Ghost Rider is arguably the most memorable Marvel Comics superhero guest star that Agents of SHIELD used in its entire seven-season run, despite the fact that it didn't use the most popular version of the character. Instead of going with Johnny Blaze, it went with Robbie Reyes. Agents of SHIELD executive producer Maurissa Tancharoen attributed this decision at least partially to the idea that viewers are already aware of Johnny Blaze and how he becomes the Ghost Rider, whereas Robbie is a much newer, lesser-known hero. The lack of familiarity regarding his character made it easier for Agents of SHIELD to craft its own version of Robbie.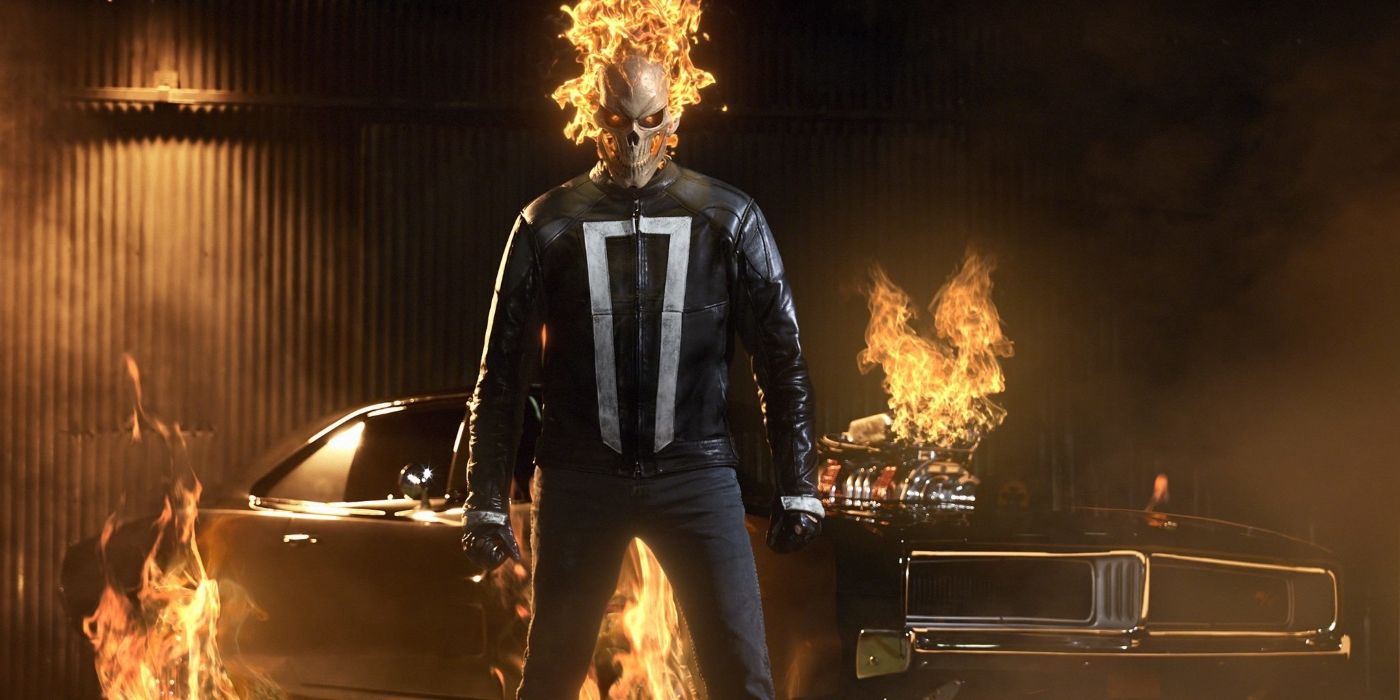 Marvel Head of TV Jeph Loeb explained in the past that Robbie felt right for the series because of how his backstory fit in with the show. Robbie's story in the comics involved him taking care of his young, disabled brother. That worked with the themes and direction of Agents of SHIELD, because the show "at the end of the day, is always about family" [via Syfy Wire]. That wouldn't be the case with Blaze, who was always a loner in the comics who doesn't have a family that depends on him. Agents of SHIELD would have had to make significant alternations to his story to make him fit this theme. For this reason, it makes sense why Johnny Blaze was reduced to an ambiguous cameo in a flashback sequence.
In the end, Agents of SHIELD choosing Robbie Reyes for season 4 worked for the series. He had interesting dynamics with both Coulson and Daisy, and his devotion to his brother added some compelling layers to his character. Plus, the show not using Johnny Blaze could be advantageous for Marvel in the future, especially if they ever intend to properly bring Ghost Rider into the MCU.
Link Source : https://screenrant.com/agents-shield-ghost-rider-robbie-reyes-version-reason/