Why Young Frankenstein Is in Black & White (& Why It's Brilliant)
Young Frankenstein ranks amongst Mel Brooks' most brilliant work, but its black and white aesthetic is unusual for a 1974 film. Here's why that is.
You Are Reading :Why Young Frankenstein Is in Black & White (& Why Its Brilliant)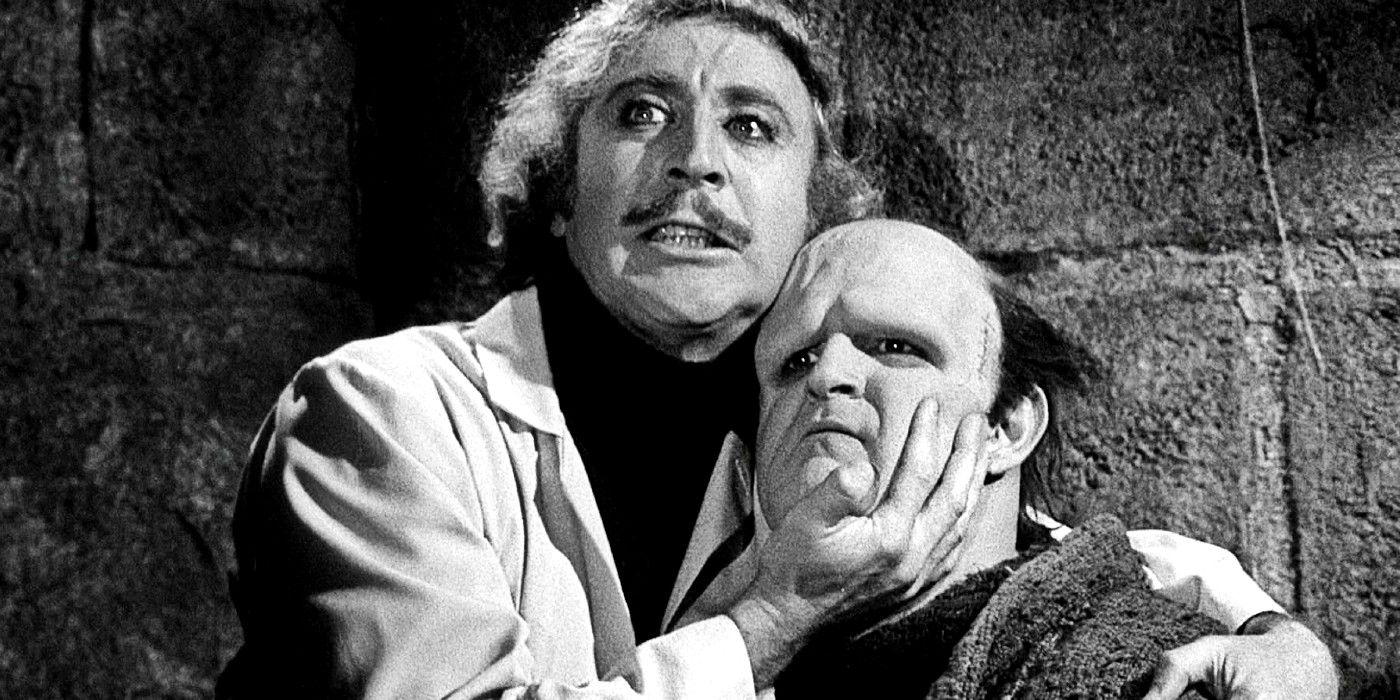 Mel Brooks' classic horror parody Young Frankenstein ranks amongst his most brilliant work, and a good deal of that has to do with how it was shot. Black and white can change a movie considerably in tone and feel, so it's no wonder that the film's striking lack of color made it stand out in 1974 when it was released. But why was a mainstream comedy like this one made in black and white at a time when color had definitively become the norm in Hollywood filmmaking? And what makes Young Frankenstein so brilliant?
To answer the former question, it's worth attending to the latter first. Back in the 1970s, Mel Brooks was the king of comedy, releasing hit after hit with films such as Blazing Saddles, High Anxiety, and The Muppet Movie, in addition to Young Frankenstein. The latter was meant to be a loving spoof of Universal's classic horror catalog of the 30s and 40s, and, though it certainly isn't the most faithful adaptation of Frankenstein, Brooks envisioned Young Frankenstein as more than just a parody of its predecessors (of which there are many).
What Mel Brooks wanted was to create a heartfelt tribute to the horror films made during the Golden Age of Hollywood. Thus, Young Frankenstein was born. Brooks intended to emulate the look and feel of Universal's monster movies of old (to the point where he used the same laboratory props from Universal's original 1931 Frankenstein). To truly bring to life the perfect replica, Brooks made the daring choice to opt for what had become an antiquated form of filmmaking: black and white photography.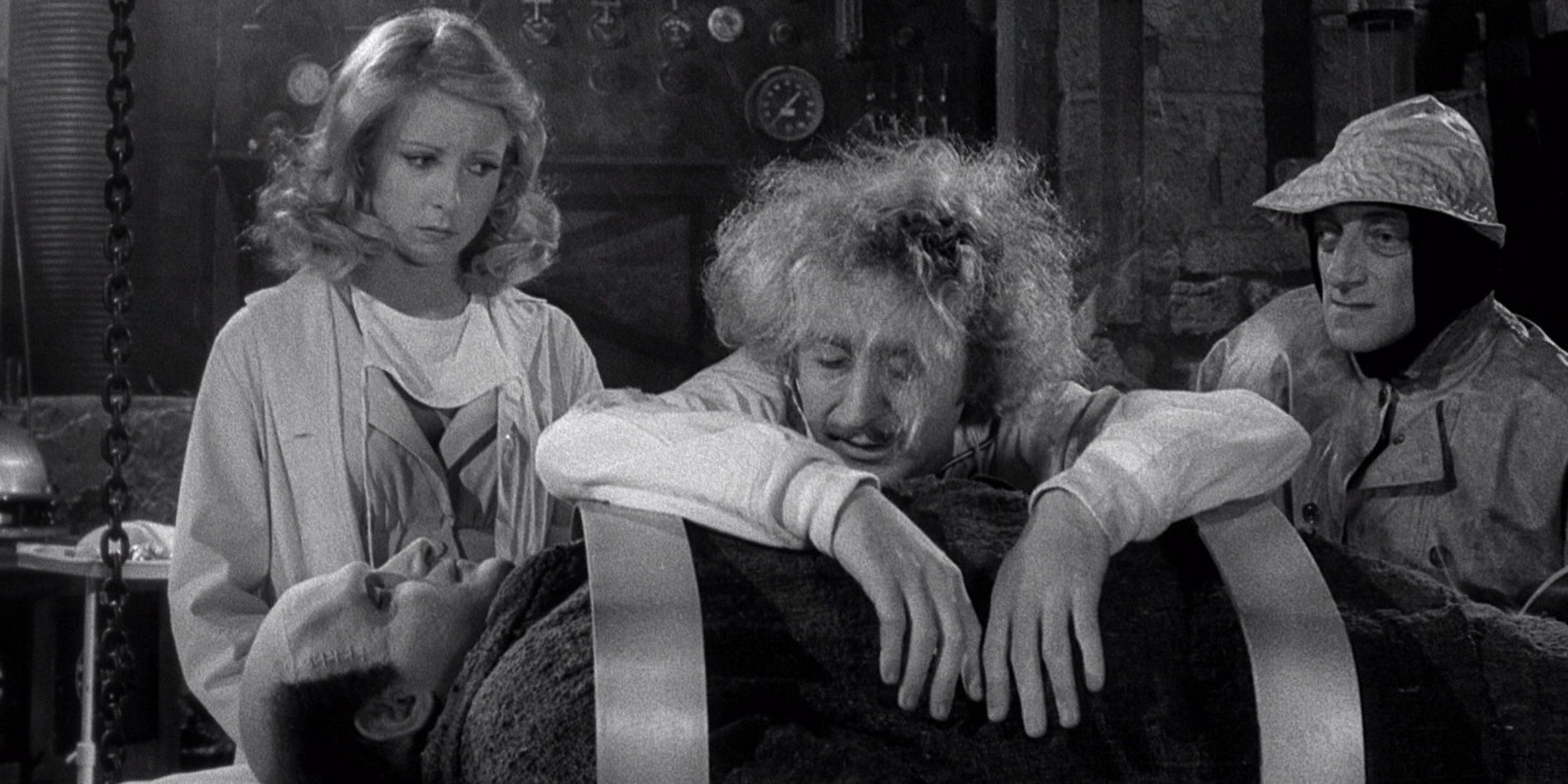 This decision did not come without its hurdles, however. In an extended interview with Conan O'Brien (via YouTube), Brooks details how his producers had been outraged when he revealed that he was going to shoot Young Frankenstein colorless. After all, color was the norm at that point, with the first color film having been released more than a few decades prior to the 1970s; black and white was no longer in vogue. The producers went as far as attempting to trick Brooks by feigning acceptance of releasing the film in black and white, provided he would shoot it on color stock. To quote Brooks, "I said 'No, because you'll screw me, you will say this, and then in order to save the company you'll risk a lawsuit, and you will print everything in color. It's gotta be on Agfa black and white thick film." Brooks eventually got his wish, and the rest is history. Young Frankenstein stands today as one of his seminal works and, like some other films, arguably all the better for being in black and white.
What makes Young Frankenstein so brilliant—besides its painstaking recreation of classic Universal horror—is the comedy and the performances from the cast. Starring Gene Wilder, Terri Garr, Marty Feldman, Madeline Kahn, and Cloris Leachman (and even Gene Hackman in an unrecognizable, blink-and-you'll-miss-it role), the film is star-studded with capable comedic talent that delivers non-stop laughs and gags. Mel Brooks and Gene Wilder co-wrote the script, so it's no surprise that memorable moments such as Igor's "walk this way," Inga's "Schwanzstück" comment, and of course Frankenstein and his monster tap dancing to "Puttin' On the Ritz" live on in modern memory as some of the greatest comedic scenes in cinema history. Who knows whether it'd even be possible to recreate these scenes in today's environment, considering Mel Brooks thinks that political correctness is killing comedy.
Whatever the case may be, the fact remains that Young Frankenstein was of its time and place – and is all the more special for it. The lengths that Brooks went to faithfully capture the spirit of Universal's 1931 classic is undeniably impressive, especially considering the pushback he faced by shooting the film in black and white. The result, however, speaks for itself. Add to that a pinch of comedic genius from Brooks and his collected cast of actors, and the ensuing creation could not be further from an abomination – it's a work of pure brilliance.
Link Source : https://screenrant.com/why-young-frankenstein-is-in-black-white-why-its-brilliant/