Willem Dafoe Interview: Nightmare Alley
Nightmare Alley star Willem Dafoe talks about collaborating with director Guillermo del Toro and what he learned in making the noir thriller.
You Are Reading :Willem Dafoe Interview Nightmare Alley
Nightmare Alley is the latest film by writer and director Guillermo del Toro who wrote the screenplay alongside Kim Morgan. The film features a talented cast led by Bradley Cooper which includes Cate Blanchett, Rooney Mara, Willem Dafoe, David Strathairn, Richard Jenkins, Mary Steenburgen, Toni Collette, and Ron Perlman. Nightmare Alley opens in theaters on December 17.
Dafoe spoke to Screen Rant about collaborating with del Toro, developing his character, and what he learned in making the noir thriller.
Screen Rant: I want to know the most unique thing about working with Guillermo del Toro. Is there something you've never experienced on a set before?
Willem Dafoe: Oh, I just, I just live for him to say, [imates voice], "I like that!" He's just very enthusiastic. He gives you a very complete world, you went to that world, you get on that set, that carnival set, it was full of detail, it was full of beautiful things, it was easy to pretend.
And then once you get there, [he] gives you a beautiful script. Really muscular cinematography, and then you get there and he's also very loose; he is open to suggestion, he invents things sometimes. Sometimes he gets there and changes his mind about things. So it's fluid. It doesn't feel like work.
It does feel like, sounds like it can be irresponsible, but it is play. And that's the guy you want to play with. Because, intellectually, he has such a strong understanding of cinema and personally has such a passion for cinema. So you like to work with these people they're turned on. And when you're with them, it inspires you.
You mentioned the suggestions. Is there anything that you suggested about Clem that ended up making the film that you can think of?
Willem Dafoe: Just silly things. He was very interested in jargon, slang. And we played around with some of that. I don't know how much ended up in the film. But you know, just little things, little turns of phrases that we invented that textured [and] made the world more specific.
Also, working with Bradley, he was very loose as well, because they shot like half of the film before the pandemic, and then they took a break. And then by the time I get there, he had a real good rapport with Guillermo. So a lot of my scenes are with Bradley. So the connective tissue in the scenes, the beginnings and the ends, we usually got some play room there. And it was fun. It was fun. I mean, we bounced off each other pretty well.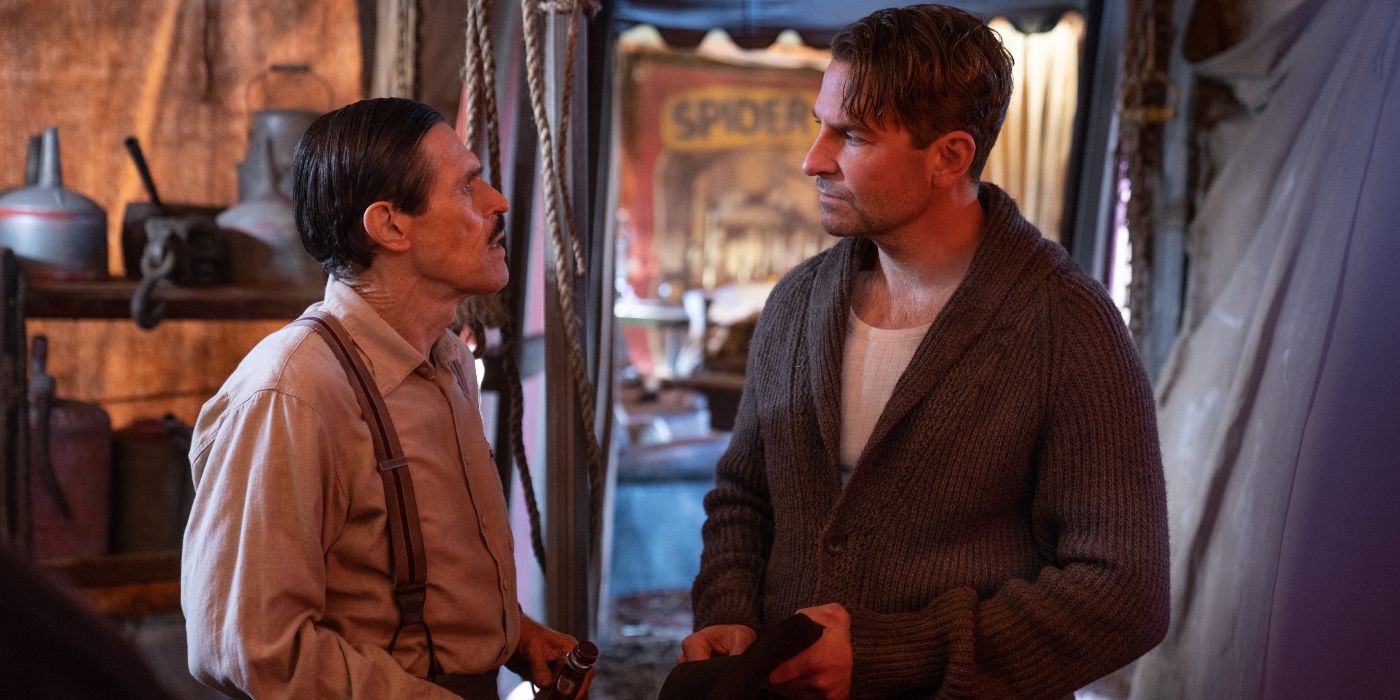 Bradley Cooper said that this was the most terrifying project that he's ever taken on in terms of challenge. What would you say was the most terrifying project that you've ever taken on?
Willem Dafoe: Oh, my God. Oh, that's hard. That's hard to say. I suppose the most terrifying one is the one where you're there and then you lose your nerve. When you choose to do a project, it's usually nice to know why you do it and then put aside worries about how it's gonna turn out or results, you know? You do it because you know why you did it. And then you follow through.
But there are some movies where you feel like, "Ooh, I didn't think about this well enough." I'm pretty good. Sometimes movies don't work, but if I know, why I did them I feel fine with the result. But I guess the toughest movies are the movies where you're there and you'd go, "Oops, this isn't going well." But that wasn't the case with this.
This movie explores who people really are. Is there anything that you learned about yourself as a result of working on Nightmare Alley?
Willem Dafoe: I'm sure there is. I can't quite identify it.
You know, when you play a character like Clem, you get into this dialogue with yourself about, you know, classically they say, and it's true – you can't judge your characters. You're inhabiting them. You're justifying what you do as a character because you're that person. You defend them, you protect them.
But in retrospect, there are certain things about the kind of pragmatism, you got to keep the balance between being pragmatic, and being amoral. That is always a struggle, I think in the world; when I say, particularly if you have a dim view of the world, a dark view of the world, which I don't think I do.
But I mean, when you get into a dialogue after the fact about what Clem does, for example, or what happens in the story, it just makes you think about human nature. So it's a good thing the story pushes you to that place, asks questions about human nature and what people will do in the pursuit of happiness. And if they don't know themselves and if they don't understand the proper, correct, true recipe for happiness that can hurt a lot of people.
Nightmare Alley (2021)Release date: Dec 17, 2021
Ash Crossan is a Lead Content Producer & Host for Screen Rant. With nearly a decade of experience under her belt, Ash joined Screen Rant in 2021 as a lead interviewer. Based in Los Angeles, Ash is a fan of all things Star Wars, Marvel, DC, 90s Nickelodeon and rom-coms. Follow Ash on Twitter: @AshCrossan.
Link Source : https://screenrant.com/nightmare-alley-movie-willem-dafoe-interview/