X-Men: Cyclops and Wolverine Are Definitely Having Sex On The Moon
They've been teammates and enemies, but the new X-Men #7 shows Cyclops and Wolverine have a new relationship. And they aren't alone in the moon base.
You Are Reading :XMen Cyclops and Wolverine Are Definitely Having Sex On The Moon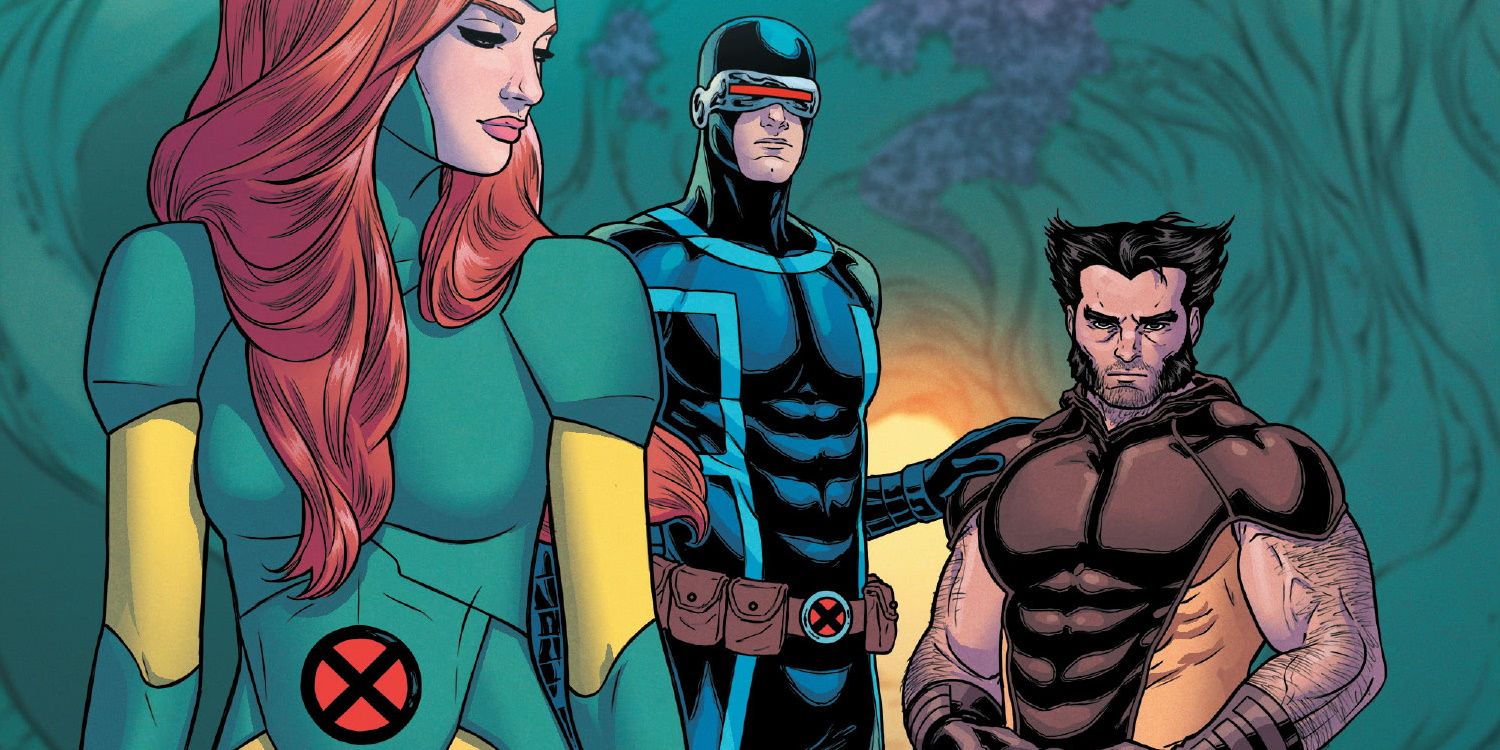 Spoilers for X-Men #7 below!
The new issue of X-Men strongly suggests a sexual relationship between two of the team's most prominent mutants, Cyclops and Wolverine. In previous issues of the series, writers strongly implied a polyamorous relationship between Jean Grey, her husband Scott Summers AKA Cyclops, and "Logan" Howlett, better known as Wolverine, his longtime rival for Jean's affections. The exact nature of their partnership has been one of the biggest mysteries looming over the recently-relaunched team, but this week's X-Men #7 makes a strong case that Scott and Logan are directly sexually involved.
Jonathan Hickman's Dawn of X relaunch has completely changed the status quo for mutantkind, relocating them to a new nation called Krakoa. The island is a peaceful utopia where all mutants are encouraged (and possibly forced) to erase past conflicts and bond together. In fact, Krakoa's ruling council set a cardinal law mandating that the population hook up more often: "Make more mutants." The prologue miniseries House of X ended with a highly suggestive scene in which Logan, Scott, and Jean shared drinks. Jean even passed one to Emma Frost, Scott's paramour in the years leading up to DoX. (Scott and Emma are also still in a sexual relationship of their own, as Storm mentions in Marauders #8.)
The opening issue X-Men #1 later confirmed that the entire Summers family are living together on the Moon in one home with a peculiar setup: separate bedrooms for Jean and Scott, as well as a room for Logan, arranged so that the three connect in a line with Jean's room in the middle. It was clear that Jean was sleeping with both men, but it was unclear when her partners were simply in simultaneous relationships with her or if the new love triangle connected at every point. Fortunately for curious readers, an early scene of issue 7 offers some clear evidence of attraction between the former foes.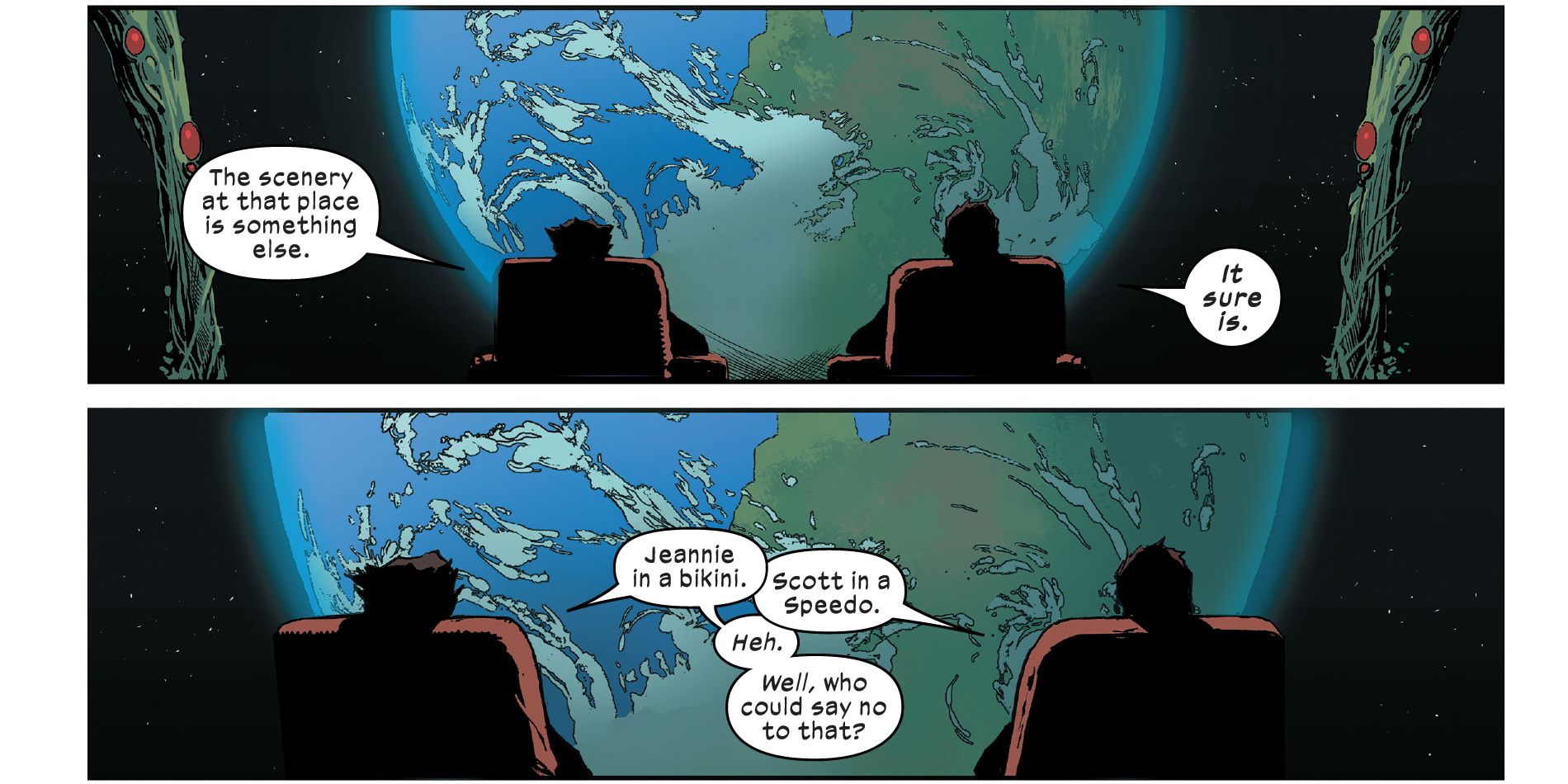 After the opening scene and the title page, the story cuts to the Summer House, where Scott and Logan are spending an early morning together. The latter is kicking back in a light bathrobe while Cyclops is in full costume (sans the trademark head-sock). When Wolverine mentions that he had trouble sleeping, Cyclops blames "all that hair" before inviting him along on a space vacation to Chandilore, the island-like planetoid that Cyclops mentioned in New Mutants #7. Logan admits that the scenery is hard to pass up, especially Jean in a bikini. "Scott in a speedo", the spectacled mutant adds. Logan laughs and responds: "Hell, who could say no to that?"At this point, the subtext has become text.
The Summers' husband and the Summers' boyfriend share a pause that could be read as comfortable silence or as a moment of tension before the conversation heads into the much darker territory that looms over the rest of the issue. They talk about a history of "deciding what's right and what's wrong", alluding to the "Schism" era of the franchise in which Cyclops and Wolverine were enemies locked in battle, a time that the shorter and hairier of the two doesn't want to revisit. Ultimately, Wolverine has no interest in helping Cyclops process his feelings. Is their intimacy romantic in nature or strictly physical? It's hard to say, but this sheds some light on Cyclops' cryptic remark in X-Men #2 that he "loves a single someone". Did the strait-laced strategist mean that he loves at least one person, or that he only loves one person? Either way, it's clear the days of Scott and Logan fighting over lovers is long over.
X-Men #7, written by Jonathan Hickman with art by Leinil Yu and color by Sunny Gho, is available from Marvel in stores now.
Link Source : https://screenrant.com/xmen-cyclops-wolverine-moon-sex/